Nepad fisheries advisor visits new maritime training centre
25-January-2012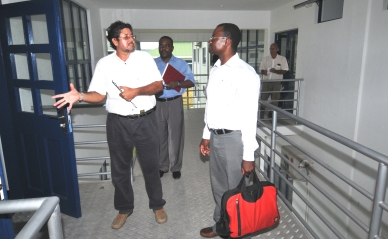 Mr Chimatiro is guided on a tour of the new centre by acting principal Brian Hoareau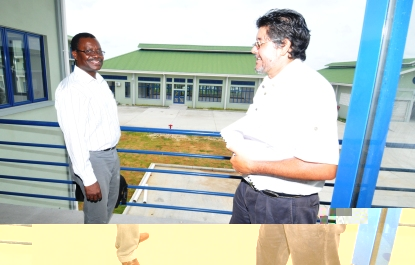 This is part of a fisheries scoping mission to Seychelles from January 23-25.
The objective of the mission is to explore and agree with the Seychelles team of the Comprehensive Africa Agricultural Development Programme (CAADP), headed by Mermedah Moustache, on technical support necessary for development of the National Fisheries Investment Plan.
He was met at the training centre by acting principal Brian Hoareau, the coordinator for Education and Development, Jean Alcindor, and Mrs Moustache, who is the focal point of the CAADP for Seychelles.
Furniture and equipment were still being brought in as Mr Chimatiro and the press were taken on a tour of the centre.
Mr Chimatiro, who is South African, was told that the centre, expected to be operational within the next few weeks, will have capacity for 200 students.
It is divided into three departments -- fisheries, navigation and mechanic.
Mr Hoareau said that initially, a fair share of the students opted to join the fleet of Seychelles tankers, but recently there have been more opportunities on pleasure boats and inter-island charters. This is why some students are trained in such fishing techniques as fly-fishing and trawling.
Mr Hoareau said the centre will soon offer courses up to diploma level, which will bring them to three-year duration.
He explained that courses will initially be broad-based, before students start to specialise in some field, which is of special interest to them.
"In their last year, they will have a module and be involved in scientific research, going out and collecting data," he said.
He said up to now, students have been involved in several projects conducted by the Seychelles Fishing Authority (SFA), such as fish tagging on Praslin, shark tagging and FADs (fish aggregating devices).
Mr Alcindor explained that the centre will have such equipment as sonar, echo sounders and simulated navigational techniques.
The group were also taken to a dormitary with a capacity of 24 for regional exchange programmes.
It is envisaged by the International Maritine Organisation (IMO) that the centre could be used for such exchanges within the context of the global fight against piracy.

Mrs Moustache had earlier yesterday accompanied Mr Chimatiro to a meeting with representatives of the Seychelles Fishing Boat Owners Association, during which piracy was a major concern.