Parents need to help enforce code of conduct
25-January-2012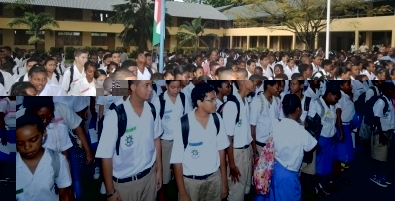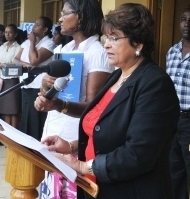 Minister Mondon addressing students at the Mont Fleuri secondary school

Education, Employment and Human Resources Minister Macsuzy Mondon said this yesterday while addressing students at Mont Fleuri secondary school in a special assembly to mark the start of a new academic year.
Present were the Education principal secretary Merida Delcy, the school's headteacher Rose-Mary Violette, parents and other staff.
Mrs Mondon said parents have to explain to their children the importance of going to school and what is expected of them.
"Students have to abide by the school rules and have respect for one another and for the staff as well as the institution."
Noting that the Mont Fleuri School got a new management last year, she said the new staff have done their best to run the school in spite of its many challenges.
The school has had many issues with regard to some students' bad behaviour, she added.
Mrs Mondon said it is sad that a minority of students have managed to affect the school's reputation.
"But we must not feel discouraged, as there are many students who are well mannered and ensuring that good things are happening in the school."
She also urged all students to take their studies seriously.
"Those who come to school only to disturb others will be dealt with severely."
She said this year's national theme 'Striving for our Seychelles', also applies to students.
Students also have to promote productivity, respect, a positive attitude, responsibility, tolerance, honesty, devotion and discipline.
Mrs Mondon also asked the community to guide the students and take care of their school.
"Many people come inside the school's compound after classes to smoke and drink and this is not acceptable."
She added that the Education Division will review its security systems in all schools soon.
She also said during her visits to other schools many parents were complaining about the general state of the premises.
"We have cleaning agencies which are being paid to keep the schools and its environment clean not only during the terms but also in holidays and we expect them to do a good work."
Mrs Mondon said this year she is going to visit all schools in the country to speak to students and meet the staff.
During the assembly the deputy head S1-S3, Marc Arissol, who got a career excellence award last year was rewarded for his good work at the Mont Fleuri school. Mr Arissol was presented with a laptop.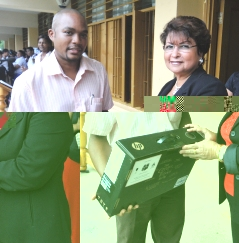 After speaking to the Mont Fleuri secondary school students, Mrs Mondon also visited the Bel Ombre primary school to see if the new pupils from Glacis primary school have settled well.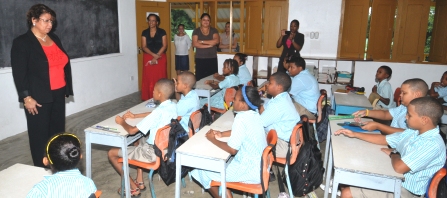 The pupils from Glacis have moved to Bel Ombre as their school is being demolished to make way for a new one.