Regulators discuss ways to boost business climate
26-January-2012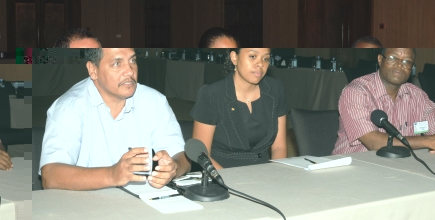 Preparations are subsequently being made for "enhancing the investment climate through a virtual one-stop shop linking all the regulatory authorities in Seychelles," which was the theme of the meeting held at the Ephelia Resort.
The meeting, held on Tuesday and yesterday, comes after the poor ranking of Seychelles in a 2011 World Bank "Doing Business Report", which ranked these islands 95th out of 183 countries, highlighting the need to further improve some of the government agencies' procedures.
The workshop was opened by the Vice-President and Minister for Finance, Danny Faure, who outlined the importance of the "Virtual one-stop shop" in the context of the Seychelles government's economic thrust of attracting investment.
One of the critical ingredients in the attraction of investment, he said, was the relaxation of regulations and facilitation of business.
Mr Faure said Seychelles had introduced modern technology, such as electronics in the administration some years ago in a bid to consume less time in paperwork for daily transactions by ministries and departments.
However, various problems and limitations slowed the connectivity possibilities within and among certain government bodies.
Speaking to the press after the gathering, the principal secretary for Investment and Natural Resources, Michel Nalletamby, said government is reviewing the way business applications are processed, hence easing the way for the private sector to move ahead with business ventures.
He said currently, procedures are often complex with a tendency for duplication at each stage.
Mr Nalletamby said the aim is to facilitate inter-action between government bodies dealing with business applications.
He noted that there was an urgent need to "convenience" potential investors, rather than provide obstacles by way of bureaucracy and duplicating procedures.
He noted some of the steps which emerging business ventures have to grapple with, such as obtaining a licence or permit, obtaining access to credit, recruitment of workers, etc.
The chief executive of the SIB, Sherin Renaud, said it is also important to build human capacity to make it easier for the agencies to harmonise procedures.
But, before this can be addressed, "the gaps" in human capacity must be identified.
Ms Renaud also outlined the efforts that SIB has been making to ease the business establishment and regulation process in Seychelles.
She said implementation of the measures agreed on at the Ephelia gathering should begin around March-April, involving initially those bodies most involved in the setting up of business ventures.
Among the most prominent of them, the Seychelles Licensing Authority, the Seychelles Tourism Board, the Planning and Environment departments as well as the Seychelles Fishing Authority were represented.
The meeting was conducted with the financial and technical support of the European Union (EU) through the African, Caribbean and Pacific Business Climate Facility (Biz Clim).