Rev Elizabeth named Anglican diocese archdeacon-• As Rev Kallee becomes dean of St Paul's church
27-January-2012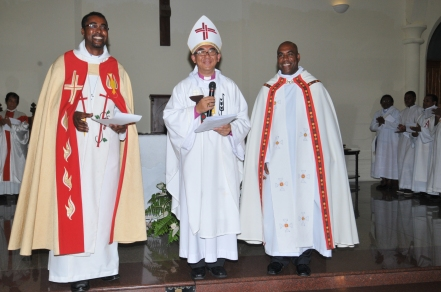 Rev Elizabeth got the title at a collation and installation ceremony held at the St Paul's Cathedral on Wednesday, at which Rev Daniel Kallee became the cathedral's dean.
Among those present were government ministers, Roman Catholic Church Bishop Denis Wiehe and members of the newly appointed leaders' families.
Rev Elizabeth will be helping Bishop Wong in the church's administrative and pastoral work, while also minding the 13 church buildings and 11 homes where priests live and other assets, which he is expected to write reports on annually.
He will also see to the welfare and training of the clergy.
A Bachelor of Education degree holder from the Edith Cowan University, Rev Elizabeth studied theology in South Africa in 2000.
Rev Kallee became the priest in charge of the cathedral – which is the seat of the bishop – and is the cleric responsible for the parish.
Trained in Mauritius as a priest, Rev Kallee has done a one-year course in ecumenical church ministries, which he said is an asset as he is the man behind special services at the church attended by members of different churches.
"It is also where the canons or church elders meet," he told Nation.
He said the Anglican Church is often seen as the Bridge Church because of its flexibility that helps it accommodate believers from the Orthodox, Catholic as well as the evangelical and other churches".
In his sermon for the occasion, Bishop Wong referred to Exodus 18 where Jethro – the father in law of Moses – advised him to choose able men to help him do the work he was doing instead of doing it all by himself.
The ceremony also marked the conversion of Paul from a persecutor of Christians to a follower of Jesus.