XXX Olympic Games in London-Flag raising ceremony to commemorate six months to the Games
28-January-2012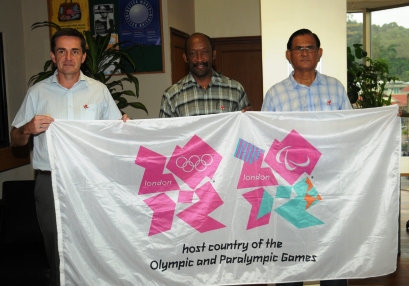 Community Development, Youth and Sports Minister Vincent Meriton and Seychelles Olympic and Commonwealth Games Association (Socga) president Antonio Gopal were among the guests at the ceremony held at the British High Commission, Oliaji Trade Centre.
High Commissioner Forbes said: "The Olympics is arguably the world's greatest sporting event and London 2012 will be no exception. The Games are a fantastic opportunity to highlight the best of what Britain offers; we are a diverse, dynamic, open and modern society and it's a great place to study, to work and do business. However, what matter most this summer is the sport and I've got my fingers crossed that Seychelles qualifies in all its chosen competitions, though of course I'll be supporting Team Great Britain!"
Minister Meriton said he is confident London 2012 will be one of the greatest Olympic Games of all time. With this year's Games, London will become the first city to host three modern Olympiads and I am sure it will be a memorable occasion."
The minister added that although Seychelles' contingent at the Games will be small, he is happy Seychellois athletes will be among the greatest athletes of the world in this biggest celebration of sportsmanship, peace and unity.
"Winning is not the only essential thing at the Olympics. Taking part is an achievement in itself. The ultimate goal is not only to conquer but to fight well," said Minister Meriton before wishing all athletes who will be taking part in the Games good luck.
Socga chief Gopal said six months to the Games is an exciting time for everyone and commended the dedicated effort of the organising committee in their preparations for the London Olympics.
"This day should be one to motivate our athletes who are striving to qualify for the Games. Let's all encourage their dedicated training in their quest to bring home Seychelles' first Olympic medal," said Mr Gopal.
Seychelles is expected to take part in athletics, swimming , badminton, weightlifting, sailing and canoeing at the London Olympics which will feature 39 disciplines in 26 sports and taking place in 30 different venues.