Volleyball-Women's team receive tickets for Olympic qualifications
28-January-2012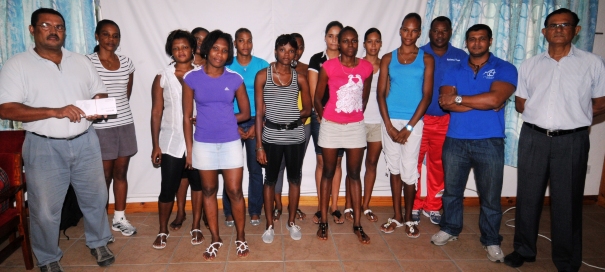 The competition will determine the continental representative for the prestigious XXX Olympic Games in London, England from July 27 to August 12.
The team's trip is being financed by the International Olympic Committee (IOC) under the Team Support Olympic Grant. This is the third and final portion of the US $60,000 grant.
Members of the team were presented with their plane tickets by Seychelles Olympic and Commonwealth Games Association (Socga) president Antonio Gopal during a ceremony on Wednesday afternoon at the Olympic House, Roche Caïman.
Present at the ceremony were Socga secretary general Alain Alcindor and vice-chairman of the Seychelles Volleyball Federation (SVF) Antoine Lafortune, who is also the national team manager.
Mr Gopal reminded the players that the fact they have been chosen for the grant is a great opportunity for them and they have to maintain a high standard of performance if they want to benefit from future help. This, he said, is crucial as other sports disciplines are improving their performance at both local and international level.
On behalf of the SVF, Mr Lafortune thanked Socga for the support which he said has been helping the team in their preparation as well as competitions.
The 12 players making the trip are Annarita Adelaide, Atila Bonnelame, Maya Biong, Sandra Joseph, Terille Songoire, Tania Solin, Petra Richard, Flora Lesperance, Kelly Matombé, Stephie Barbero, Geneviève Nicette and Nathalie Agnes. Nichol Lesperance is the head coach and his assistant is Marie-Ange Bouchereau. Team manager Lafortune, along with medical officer Derrick Sauzier and official Michael Ah-Kong will also make the trip.
Hosts Algeria are the favourites after concluding the 2011 year with the gold medal at the 10th All-Africa Games in Maputo, in Mozambique and silver at the continental championship in Kenya. They were also one of the African representatives at the 2011 Fédération internationale de Volleyball World Cup.
R. D.