18 suspected pirates to be prosecuted here
30-January-2012
The pirates arrived in Seychelles on Saturday afternoon.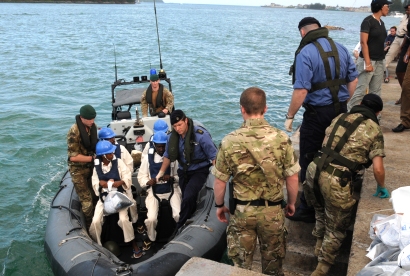 The government of Seychelles has agreed to take custody of the prisoners for prosecution, given initial reports suggesting overwhelming evidence, and after seeking assurances to address concerns on issues of transfer mechanisms.
The Seychelles government, which has consistently expressed concern over the acceptance of additional prisoner transfers if the issue of the onward transfer of convicted Somali prisoners to UN monitored facilities within Somalia is not resolved, had initially declined the transfer request as the suspected pirates were captured outside of the geographical operating zones adopted by local guidelines.
Given the serious nature of these cases and ongoing work to ensure that transfers of prisoners to Somalia could begin within weeks, Seychelles was satisfied, subject to the decision of the Attorney General, that prosecutions should proceed.
Commenting on acceptance of the suspected pirates by Seychelles, UK Foreign Secretary, William Hague, said:
"We are very grateful to the Seychelles for their agreement to prosecute these suspected pirates. Their commitment to the fight against piracy has helped avoid a situation where these individuals were not held to account for their actions.
"In a few weeks' time, the London Conference on Somalia will discuss how the international community can tackle the many problems faced by Somalia, including piracy. Today's agreement on the transfer of alleged pirates demonstrates what can be achieved through international co-operation and commitment."
The Minister for Home Affairs, Environment, Transport and Energy Joel Morgan, who is also the chairman of the Seychelles High Level Committee on Piracy, said:
"Seychelles has shown time and time again that it is prepared to stand and be counted in the fight against piracy but we are a small nation and there are practical issues that we must consider when we receive prisoner transfer requests and we must review them on a case by case basis.
"However, we also firmly believe that pirates cannot continue to operate with impunity and given the possibility of a strong case against these 18 suspected pirates, failure to prosecute would undermine all our efforts and send the wrong message. It is due to this and the solid relationships that we have built with our partners, that in this particular instance, we have found a solution that means these suspected pirates at least will face prosecution and hopefully not threaten the safety of our seas again."
Seychelles has agreed to accept 18 pirates in total -- 14 captured by the UK and four by the Danish -- and the UK and Denmark agreed to support and facilitate their passage to justice in Seychelles.
This includes working closely with the Seychelles government to facilitate and fund the transfer of the suspected pirates.
In addition, an exchange scheme already established between Seychelles and Isle of Wight prisons will be brought forward and expanded, bringing UK prisoner officers temporarily to Seychelles to support its prison management.
The UK is also helping the Seychelles Prison Service through further projects that will be delivered via the UN Office on Drugs and Crime (UNODC).
These measures will help address Seychelles' concern over prison capacity, which is vital to the approach being taken to create a number of regional prosecution centres where suspected pirates can be prosecuted before being transferred to prisons being developed in Somalia.

Seychelles is currently holding 76 pirates in its prisons and has already conducted successful trials on a number of cases.