Up Close … with Shireen Guy, teacher for deaf pupils-'My joy is to help deaf pupils succeed'
31-January-2012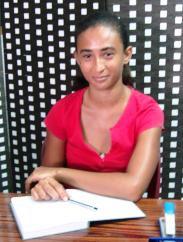 In fact it was an open day but a special one - for parents with kids with hearing impairment and partners who believe that deaf pupils can go far in life given the right opportunity.
The open day was being held at the school for deaf pupils at Au Cap.
Shireen is one of two teachers at the school since it opened in October 2010.
She teaches seven pupils aged between 8 and 16 but she told me that more pupils were expected to join the school this year.
For Shireen, even though they are special pupils, they can be as mischievous and cunning as any 'normal' pupils.
"But my joy in teaching them stems from their thirst for knowledge and the enthusiasm they show."
In fact often times Shireen said the interest and eagerness they show cannot be compared to that shown by 'normal' pupils the same age.

The 23-year-old resident of Union Vale has a lot of patience, love and devotion for her chosen career. Hailing from a family of three children -- one big brother and two younger sisters -- Shireen is grateful for the support she receives from them.
Realising her childhood dream to be a teacher
When a few years ago she started studying to realise her childhood dream of becoming a teacher, it never crossed her mind then that she would be teaching pupils with hearing impairment.
But today, some five years after graduating as a primary school teacher from the then National Institute of Education (NIE), Shireen still vividly recalled the day Anita Gardner, the chairperson of the Association for People with Hearing Impairment (Aphi) gave a talk at the NIE. The aim was to recruit young teachers, preparing them to teach at a school for deaf pupils that was in the making.
"Looking at people demonstrating sign language on TV and in films had always intrigued me but I realised that this was an opportunity for me," Shireen said.
She admitted that even though her dream had always been to become a teacher, she had not fully decided what subjects or age groups she wanted to teach.
After graduating from the NIE in 2007, Shireen started her career teaching 'normal' crèche pupils but her desire to learn the Creole sign language so she could teach deaf pupils consumed her thoughts.
She had expressed her desire to be recruited but while the process was being discussed with the Ministry of Education, Shireen gained some experience teaching 'normal' crèche pupils.
In fact I learned that before being trained to teach the deaf, one has to be certified as a qualified teacher.
"I really enjoyed the time I spent teaching 'normal' pupils. My career choice had already been made but the experience I gained then confirmed my choice and I am very happy," said Shireen, who later went to follow training at the National Institute for Young Deaf People (INJS) in Paris, France.
Until the school for deaf pupils was opened, deaf pupils attended the School for the Exceptional Child at Roche Caiman.
But once she completed her training Shireen rallied all the deaf children -- around 10 of them at that time -- for holiday lessons in sign language.
She recalled having them all so engrossed and excited, seated around her not wanting to miss anything she was showing them.
"I will never forget those innocent faces,' said Shireen.
Surrounded by pupils who cannot hear you
People often wonder why a normal young teacher would choose to teach children with hearing difficulties.
"I have a passion to help those kids and see them succeed like any ordinary children their age. Like everyone, they have their abilities, weaknesses and more importantly their dreams and they are lovely kids," said Shireen, adding that for her, those kids are like any other children and she considers them so.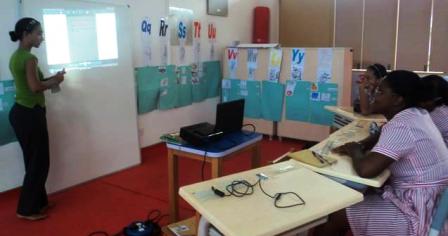 "Once I get to know them and once they have grasped the concept of sign language and they can interact with me, everything else flows and we can talk about anything," added Shireen.
"It is worth pointing out that compared to 'normal' children who sit and listen to their teacher, pupils with hearing impairment listen with their eyes so to speak. Looking at the way they watch every little sign my hands make, show they understand the message that is being conveyed."
But just like 'normal' pupils there are also among them the high performers, the average ones and the very slow learners.
While her pupils are of a mixed aged group of between 8 and 16 years, Shireen said their academic background is very poor because of their hearing difficulties.
"But once they have overcome this barrier through sign language, academic learning is much easier," she said.
Using sign language is the only way to communicate with deaf people
For Shireen the most important thing is to have all her pupils understand sign language and once they can communicate with her and among themselves "the atmosphere in the class can be compared to that of an ordinary classroom".
Shireen stressed that understanding sign language is crucial not only for communicating with the pupils but for their development and progress.
Furthermore, it is important for family members and friends of the pupils to understand and communicate with them and this can be done only if they know sign language.
She explained that these special pupils do not follow the same curriculum as 'normal' pupils.
"We have to adopt a work programme which enables us to cater for the needs of these special pupils," said Shireen.
Their lessons include one hour of sign language every day, maths, Kreol, art, physical education and storytelling.
Shireen noted that for some lessons like physical education and art, the pupils follow with their 'normal' counterparts.
"This helps them to get along with these pupils."
Not enough cooperation from parents
While Shireen is very much encouraged by the pupils' progress made when they are at school and the enthusiasm they show towards learning, she believes parents should do more to help their children.
"Very few pupils can communicate well with their parents and other family members," she said, adding that this is not good for them as it slows their progress to some extent.
All parents want the best for their children and if the children don't get the support from their parents they are discouraged and they feel left out," added Shireen.
"All this comes out through our interaction with the pupils," she said sadly.
"It is a shame because society is doing its part to help out, providing financial help for the pupils, a special school among other facilities, but parents should do more to help us help their children to succeed," she said.
Aphi, the association headed by Mrs Gardner to give support to people with hearing difficulties, had attempted to give sign language lessons to parents but without much success.
"People with a hearing impairment are physically fit with their own abilities, capabilities and intelligence and if given the opportunity, encouragement and support they can be as successful as any 'normal' people," said Shireen.
But she admits that it will be harder for all the effort being put into helping these pupils to bear fruit if parents do not give their full cooperation and commitment.
Very optimistic about the future
In spite of all the challenges Shireen is very optimistic about the future.
"I see myself continuing in my chosen career and I see the Aphi making more progress even though very slowly. We will continue to strive to educate parents and make them accept their children's condition and learn to live with them the way they are and help them receive an education which will help them succeed in their lives," she said.
Leisure and past-time
Timid and soft-spoken, Shireen enjoys reading -- be it magazines, novels or newspapers. She also enjoys a good film every now and then and in spite of spending a lot of time with her pupils and preparing interesting lessons for them, Shirin also makes time for her friends and family.
"I like hanging out with a few friends and we just chat away," she said.
By Marie-Anne Lepathy