UAE surprises school children with gifts
31-January-2012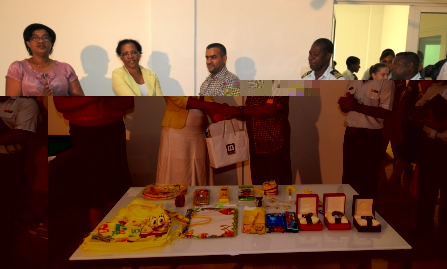 Teachers have been given watches.
The items were handed over by a Dr Saeed Alzaabi – a colonel in the UAE Army – to the principal secretary for Education Merida Delcy, at the new US $15 million Seychelles Coast Guard base at Ile Perseverance, which was itself funded by the UAE.
Also present at the ceremony were Major Ali Alyammahi and Captain Muaded Al-Kaabi of the UAE Army as well as the acting commander of the Seychelles Coast Guard Lieutenant Colonel Georges Adeline and other senior officers of the coastguard and children from a number of primary and secondary schools.
A similar ceremony will be organised for post secondary school students who could not make it to yesterday's event as they had just come back from holidays yesterday.
Colonel Alzaabi said the presentation of gifts was a sign of the friendship between Seychelles and the UAE.
The director general for schools Odile Octave said the gifts were timely as the children had just started a new school year, and hoped the UAE would follow on with similar presents in the future.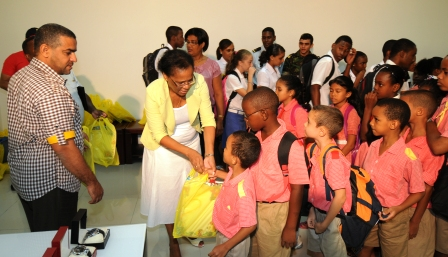 He said the items would help enhance teaching and learning and enable the pupils, students and teachers do better.
Our picture on front page shows Mrs Delcy distributing the gifts to the pupils after she had accepted the donation from Colonel Alzaabi.