More Australian support coming Seychelles way
01-February-2012
She was speaking during a ceremony on Monday evening at La Plaine St Andre to mark the first Australian National Day reception in Seychelles.
The Australian National Day, also known as Australia Day, is celebrated on January 26.
Present were Vice-President Danny Faure, Opposition Leader in the National Assembly David Pierre and Chief Justice Fredrick Egonda-Ntende.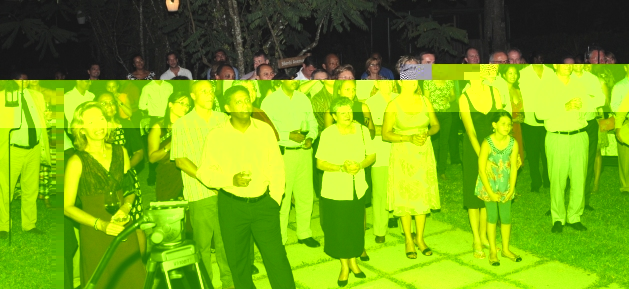 Also there were Foreign Affairs Minister Jean-Paul Adam, the Minister responsible for Environment Joel Morgan, the WHL Energy chief executive Steve Noske, as well as other high government officials and students who have studied in Australia.
WHL Energy Limited (WHL), formerly Wind Hydrogen Limited, is an Australia- based emerging oil and gas exploration firm which will also embark on a renewable energy project on Aride Island.
Addressing the guests, Ms Vegting spoke about three different projects that Australia is willing to help Seychelles.
She announced that a grant of more than 30,000 Australian dollars has been awarded for the renewable energy project to be undertaken by the firm in partnership with the Island Conservation Society of Seychelles on Aride.
"Australia will also work with the Ministry of Home Affairs, Environment, Transport and Energy, in restoring degraded land on Praslin," she said.
The Terrestrial Restoration Action Society of Seychelles (Trass) is the organisation responsible for this restoration and reforestation project on Praslin.
There is another project with Nature Seychelles to develop horticultural skills in disadvantaged communities. The Australian high commission will inject 50,000 Australian dollars into these two projects.
She spoke about the good relations that Seychelles has with Australia.
Ms Vegting also invited all present to come view an exhibition of Australian indigenous art that she will open in Seychelles in March this year.
Minister Adam said Australia Day is an event celebrated by Australian communities around the world and has become a renowned celebration of the freedom, values and spirit of the Australian people.
"With over 25,000 Seychellois estimated to be living in Australia, it is home for one of the largest diasporas of Seychellois outside our islands," he said.
"We not only share an ocean, but we share values, not least of which is the importance of investing in people.
"Over the years, Australia has generously supported this ambition of Seychelles by providing opportunities for Seychellois professional to enrich their education and their country through the pursuit of higher education," Mr Adam said.
"Not only has Australia hosted hundreds of Seychellois undergraduates over the years, more recently the Australia Development Scholarships at Masters Level programme have provided yet another opportunity for our young professionals," he added.
"Recently 10 young professionals were awarded such scholarships, for which we would like to extend our profound gratitude," he said.
Mr Adam thanked the Australian government for the recent donation of 20,000 Australian dollars towards a multi-purpose sports complex for Ile Perseverance.
He said Seychelles will also benefit from technical help from Australia to improve water safety at our beaches through training of lifesavers.
"We are also pleased to have WHL Energy with us, as they have shown their belief in Seychelles by investing in the search for oil."
"The Seychelles government has consistently committed itself to best practices in the management structure it has established for a potential oil find, as well as its commitment to ensuring that any exploitation that takes place is both environmentally sound and economically sustainable.
"We also look forward to continuing work with the Australian government and the private sector from Australia and beyond, to develop energy security in Seychelles through sustained investment in renewable energy projects," Mr Adam added.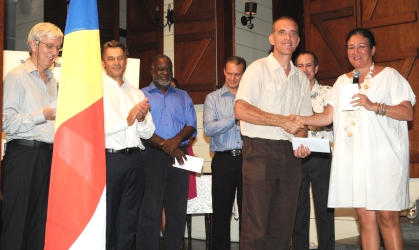 During the ceremony all beneficiaries were presented with a letter to confirm the funding of their environmental project by the Australian government.