Project to help same-day cheque clearance begins
02-February-2012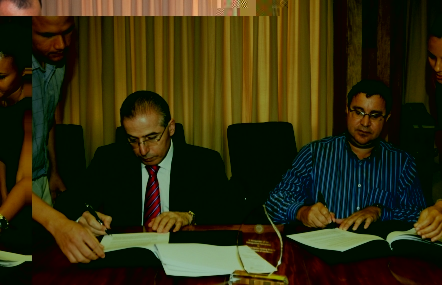 Central Bank of Seychelles (CBS) governor Pierre Laporte recently signed for the project with chief executive Michael Wakileh of ProgressSoft, who are working on the project.
This was in a ceremony held at the Central Bank and attended by the bank's board members and the heads or representatives of all commercial banks in the country.
The central and the commercial banks are sharing the cost of the project.
The company – which has installed similar electronic cheque clearance facilities in many countries around the world – won the tender for the project against six other contenders.
"Electronic cheque clearance is a key initiative around the globe including the US, and Seychelles has become one of the first countries to implement it countrywide," said MrWakileh.
He said it involves a system which will replace the normal method where cheques take three to five days to be cleared.
"With electronic clearing the cheque will be deposited on a particular day and the money will be available in the recipient's account on the same day. This will allow for better fund management for the banks and the clients.
"Besides making the money available the moment the cheques are presented at the banks, the system will also reduce the cheque exchange procedures at the central bank, cost less money, effort and time," he said.
Mr Wakileh said getting the money immediately will also boost the country's gross domestic product by speeding up payments and improving business transactions.
Oman – which has 2,000 bank branches – was the last country the company helped install the system in country-wide, where it took ProgressSoft nine months to complete the project, he said.
The director for the CBS' banking, currency and payment systems services Mike Tirant said the move will make the cheque system so much more efficient and people will be more confident to use cheques.
He said when the system comes into operation cheques currently in use will be phased out and standard ones that can be scanned and details verified will be introduced.
Seychelles is one of seven countries where ProgressSoft will introduce the system countrywide, although the company has been involved in launching the system in 24 countries including the US, Canada, the UK and many Asian countries.