Boxing-Allisop, Julie picked for Aiba training camp
03-February-2012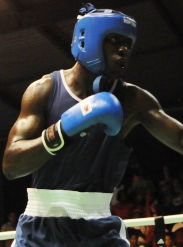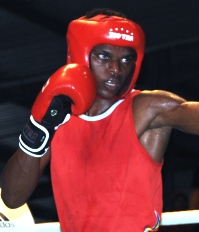 While in Cardiff, Wales, for the three-week training camp which will run from February 18-March 10, Allisop and Julie, who both have a tremendous appetite for knowledge, will train under the guidance of Association internationale de boxe amateur (Aiba) instructors.
They were selected by the international boxing body after taking part in the Aiba World Championship in Baku, Azerbaijan, last year and lost their first-round fights. Allisop crossed swords with Thai Saylom Ardee and lost the lightweight (60kg) category bout 7-18 and Julie was beaten 4-21 by Canadian fighter Custio Clayton in the welterweight (69kg) division.
The camp will be based at Cardiff University's Talybont Campus, which has been included in the London Olympic Games organising committee (LOCOG) pre-Games training camp guide.
Over 100 selected boxers and coaches from emerging nations throughout all Road to London preliminary training camp programmes will be based at the university for up to 20 days leading into the Games.
Aiba's decision is the result of a partnership approach between the Welsh Assembly Government, Welsh Amateur Boxing Association (Waba) and Cardiff University and a reflection of the range and quality of international standard sporting facilities in the capital and the quality of people and services available to visiting teams.
"Aiba is proud to support boxers and coaches from emerging countries around the world leading up to London," said Aiba president Dr Ching-Kuo Wu on the Aiba website.
"We provide funding for their travel, accommodation and board, hoping to give the boxers training and opportunities they could not afford otherwise including all expenses of their participation in the major championships. As we have seen in past 'Road to' programmes, it is very successful in developing boxers."
This is the most important Aiba development programme final training camp and is dubbed 'Road to London training camp'. Aiba is taking care of the two boxers' expenses including airfares, accommodation and meals.
Training in Cardiff for three weeks with boxers from all over the world will surely help Julie and Allisop learn a vast amount of things which they can put into practice in the final African Olympic qualifying competition slated for Casablanca, Morocco from April 27 to May 6.
Seychelles Amateur Boxing Federation (SABF) treasurer Edmond Folette told Sports Nation that Allisop and Julie have to take part in the African Olympic qualifiers as it is included in their agreement for the Cardiff training camp.
Mr Folette added that the SABF and the National Sports Council are looking into the possibility of sending three more local fighters – Jovette Jean (75kg), Keddy Agnes (81kg) and Ronny Legras (+91kg) to Casablanca to fight for a place at the London Olympics.
Like Julie and Allisop, Agnes and Jean also took part in the Aiba World Championship and lost at the first hurdle. Competing in the middleweight (75kg) division, Jean came up against an opponent stronger than him and lost the bout 6-13 to Austrian Robert Jankovski and Agnes came close to earning a victory, but lost his light heavyweight (81kg) clash 14-15 to Dariel Ebanks of the Cayman Islands.
Mr Folette noted that Julie has expressed his desire to move from the higher 69kg category to the 64kg division in which he feels he stands a better chance of qualifying for the Olympics slated for July 27 to August 12.
Only two African boxers have qualified for the XXX Olympiad in the 56kg and 81kg categories, with 48 more places left to be filled to complete Africa's 50-boxer contingent for London.
The number of places up for grabs in the 10 weight categories are as follows: 46-49kg (six), 52kg (six), 56kg (five), 60kg (six), 64kg (six), 69kg (six), 75kg (five), 81kg (four), 91kg (two) and +91kg (two).
Julie last qualified for the Olympics in 2004 after becoming Seychelles' only African Boxing Championship gold medallist so far (in 2004 in Botswana in the 64-kg division) earning himself a qualification spot at the Athens Olympics.
In 2008, Julie did not take part in two Olympic Games qualifiers after being banned from the sport for three months by the SABF after he decided to stay behind instead of leaving for Algiers, Algeria, with the rest of the Seychelles team for the 1st IABA African Olympic qualifier (from January 22 to February 1). This means he was ineligible for selection for the 2nd AIBA African Olympic qualifier in Windhoek, Namibia, (from March 22 to April 2).
Boxing has been contested at every Summer Olympic Games since its introduction to the programme at the 1904 Summer Olympics. The 2008 Summer Olympics was the final Games with boxing as a male only event. Beginning with the 2012 Summer Olympics, women's boxing will be included in the programme.
G. G.