STA, STB officials leave for training in Reunion
04-February-2012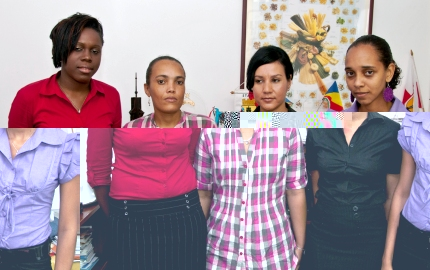 This has come through the signing of a memorandum of understanding (MoU) last year with three hotel and tourism academies of Reunion, namely Lycée Hotelier la Renaissance, Lycée Evariste de Parny and Lycée Centhor Reunion, with the help of French Ambassador Philippe Delacroix.
The first two STB staff members to benefit from this agreement are Sylvianne Nicette and Line Mancienne who leave the country today for a two-week training in the field of tourism in Reunion at the Lycée Evariste de Parny.
Their accommodation is being provided by the Lycée Hotelier La Renaissance.
They will be joined in Reunion by two STA staff – Gemine Raguin and Juliette Esparon – who will be following a two-month further training in sommelier and advanced food and beverage service at the Lycée Centhor.
STA principal Flavien Joubert said the academy is pleased to provide both its staff and staff of the STB with this training opportunity.
"The STA believes in the importance of staff development and this is why the academy ensures its staff are provided with training opportunities. The STA also wants staff of the STB to also benefit from these opportunities," said Mr Joubert.
For her part, STB deputy chief executive Elsia Grandcourt thanked the STA for extending this opportunity to staff of the tourism board.
"I believe that staff of both the academy and the tourism board will use this training opportunity to the maximum to beef up their skills and knowledge," said Mrs Grandcourt.