Resorts supportive of wetlands recognised on Curieuse tour
06-February-2012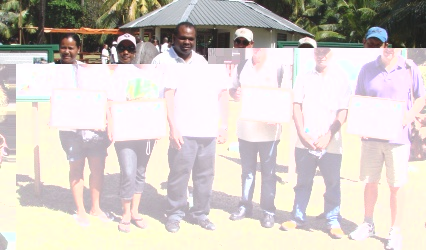 They received certificates in recognition of their conservation efforts during a tour of Curieuse island on Friday, organised to mark Wetlands Day.
Besides officials of the environmental engineering and wetlands section of the Environment Department and of the National Park Authority, the group also included two students from all secondary schools and their teachers.
The students and teachers belong to eco or nature conservation clubs and were taken on a conducted tour of the Curieuse wetlands, which boast seven species of mangroves.


Environment principal secretary Didier Dogley, inaugurating the occasion held under the theme "Wetlands tourism, a great experience", said as we develop, we must take care not to destroy wetlands, which remain such an important part in maintaining the equilibrium of catchment areas, rivers and reefs.
He said Seychelles has joined with over 150 countries in ratifying the 1971 Ramsar Convention to protect wetlands sites. He noted that three sites in Seychelles have already been listed by the Ramsar Convention -- Port Launay, Mare aux Cochons and Aldabra.
"We are next proposing Anse Lazio and why not Curieuse," he said.
Mr Dogley said that unfortunately, marshes are often seen as a problem, with some people discarding their rubbish in them.
He said we should emulate the hotels who constitute shining examples of nature conservation.

The resorts who received framed certificates in recognition of their efforts in protecting marshes around them are La Reserve, Banyan Tree, Maia Resort, Four Seasons, Le Meridien Barbarons, Constance Ephelia and Domaine de l'Orangeraie.
Also receiving such a certificate was Elvina Hoarau, who after her studies in Australia, has been active in protecting wetlands as part of coastal management.
During their half-day trip to Curieuse, the students also walked the boardwalk to get a first hand experience of the Curieuse mangroves.
They also enjoyed playing with the Aldabra giant land tortoises. Curieuse boasts the largest free ranging population of such tortoises, after Aldabra. It is believed that Curieuse presently offers sanctuary to some 300 tortoises.
Unique vegetation on the island include such timbers as "Bois Porche" and seven mangrove species, including "Mangliye Fler" and "Mangliye Rouz".
The students also enjoyed the trip by boat from Baie Ste Anne jetty -- after disembarking from the inter-island ferry Cat Cocos -- to Curieuse, a 40-minute crossing along the coastal areas of Anse la Farine and Anse la Blague, fairly secluded areas of Praslin.