Sainte Anne Resort & Spa-Seychellois take on senior management positions
06-February-2012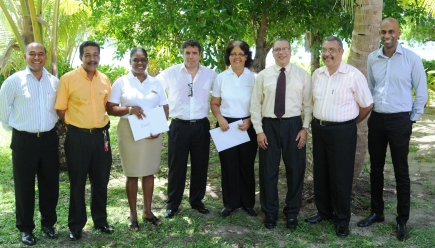 Their promotion was announced on Friday in a small ceremony held on the island where several members of management and other staff were present.
Also present were Seychelles Tourism Academy (STA) principal Flavien Joubert, Ronald Fock-Tave of the immigration department and Seychelles Tourism Board (STB) product manager Peter Moncherry.
Ms Stravens and Ms Bonne received their official documents confirming them in their new posts from the resort's new general manager Norbert Couvreur. Ms Stravens is the training manager in the resort's new training department and Ms Bonne is the resort's executive housekeeper.
Mr Couvreur said the company is emphasising on training Seychellois staff to hold senior and management positions and said they will work closer than ever with their local partners – the STB and the STA – as well as their regional partner – the Beachcomber academy.
"My personal goal is to develop the people here by giving them the right training. We need to review the way the hotel has been managed and start afresh with some new ideas and people should be ready to take up the challenges," he said.
Ms Bonne, who will celebrate 10 years with the company this year, told Seychelles Nation she sees herself staying at the Sainte Anne Resort & Spa.
"I had always wanted to work for a Beachcomber resort and I got the chance with the opening of the Sainte Anne Resort & Spa," she said.
"For the future, I want to improve the standards here, especially in the housekeeping division. I take this opportunity to call on those already working in the tourism industry or others thinking of joining to be devoted so they will be able to reap the fruit of their hard work."
Ms Stravens joined the resort in November 2010 as assistant human resources manager and said she had wanted to work at a hotel for a long time.
"After spending 12 years at Air Seychelles, I wanted to present myself with a new challenge," she said.
"Our aim is to ensure that each and every worker here undergoes training, especially since there are various ways they can benefit from it. There are technical areas in which they can be trained. Grooming is also important and they can be taught how best to receive and interact with guests. I see this year as a very interesting one for us here," she said.