Sri Lanka celebrates 64th Independence Day anniversary-Sri Lankans praised for their role in Seychelles' economy
06-February-2012

Foreign Affairs principal secretary Maurice Loustau-Lalanne said this during a reception yesterday to mark Sri Lanka's 64th Independence Day anniversary at the Les Mamelles community centre.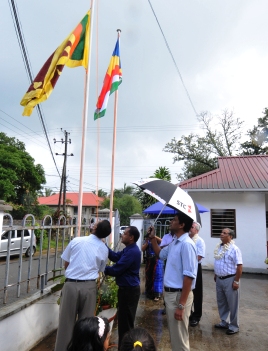 Sri Lanka gained its independence from the British on February 4, 1948.

Also present at the reception were the Sri Lankan Association of Seychelles president Priyanga Tennege, other members of the association and guests.
Mr Loustau-Lalanne congratulated the Sri Lankan teachers in our schools and others who are working in the private sector helping to boost the country's economy.
He said Sri Lanka is known as the pearl of the Indian Ocean and Seychelles will continue to strengthen its ties with such an important country.
During the ceremony, Mr Tennege read the National Day message from the President of the Democratic Socialist Republic of Sri Lanka Mahendra Rajapaksa.
In his message, Mr Rajapaksa states that the way is open for an independent economy.
"It daily reinforces the nation's aspiration for a prosperous future. It has given us freedom to decide upon issues concerning the country and the nation without bowing down before external powers," writes President Rajapaksa.
The ceremony was also marked by the hoisting of the Seychelles and Sri Lankan flags and the lighting of the traditional lamp.
This was followed by traditional dance performances and other entertainment as well as lunch.