China pledges continued support to entrepreneurs
07-February-2012

Ambassador Shi addressing the gathering at Friday's ceremony
Chinese ambassador Shi was speaking during a reception organised for artisans who have benefitted from short trainings in China.
Hosted by the Small Enterprise Promotion Agency (Senpa) and the Chinese embassy, the ceremony was held at the Berjaya Beau Vallon Bay Resort & Casino.
Present were Investment, Natural Resources and Industry Minister Peter Sinon, industry principal secretary Lucy Athanasius and Senpa's chief executive Sylvianne Valmont.
Some 30 local entrepreneurs have attended technical training in China in areas like textile, bamboo and clothing.
During the ceremony the embassy also donated two sets of computers to the agency.
Mr Shi said small enterprises are vital to the national economy as they increase employment and promote innovation.
He added that the Chinese embassy, through Senpa, has managed to improve the skills of artisans through various training offered by the Chinese government.
"Every year more than a dozen Seychellois benefit from such training," he said.
Mr Shi added that the Chinese government will carry on with its training programme for Seychelles and also keep up the good cooperation with Senpa.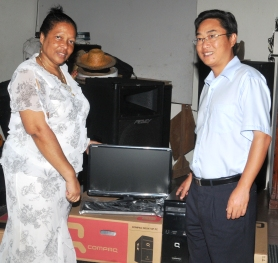 Mrs Athanasius thanked the Chinese government for the opportunities made available to local entrepreneurs.
"Such training and technical support testifies to the strong ties between the two countries. Seychellois have benefitted greatly from the generous help of the Chinese government through its embassy here," Mrs Athanasius said.
Ms Valmont also thanked the Chinese embassy for its support throughout the years.
She said the two computers will be put in Senpa's documentation centre for the time being but later moved to the small business information centre.