First local music award launched
07-February-2012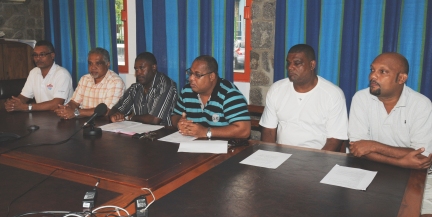 An initiative of local company Music Award Seychelles and sponsored by Seychelles Breweries Limited (SBL), this award will be named the SeyBrew Music Award Seychelles.
As SBL will this year be celebrating 40 years of manufacturing locally, the organisers said it will coincide well with the event.
The award ceremony will be a red carpet event to be held at Le Méridien Barbarons Hotel, thus giving the nominees a celebrity status whereby they will be escorted to the venue in luxury cars and ushered to their seats.
The award was launched last Friday during a press conference at the SBL headquarters at Le Rocher by the Music Award Seychelles team headed by Terry Carolla in the presence of SBL managing director Aubrey Lucas and other representatives.
The SeyBrew Music Award Seychelles is a celebration of local music with the aim of showing appreciation to the development, contribution of the music industry in the socio-cultural and economic development of Seychelles.
The award will start with singers only and grow to include seven categories as the event continues to be organised each year.
The trophy will be in the shape of a Zez – a local traditional instrument.
Apart from SBL, the other partners are the Seychelles Broadcasting Corporation (SBC) and the National Arts Council (Nac).
Mr Carolla said the main criteria will be originality but others, as well as details about the categories, will be announced later.
Six individuals form part of a selection team who will submit five nominees in each category to the panel of judges. From then, the six judges will select the three finalists from each category.
During the ceremony, the winner will be awarded with R25,000 as well as the trophy.
Forms will be available to members of the public who would like to take part in the nomination process.