IDC holds dental camp on Desroches island
09-February-2012
The company's senior medical officer, Dr Selvan, made the statement while coordinating a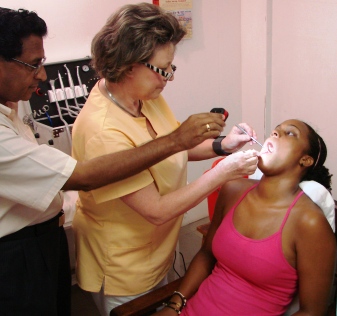 dental camp on Desroches island last weekend.
The camp was organised in collaboration with the Desroches Island Resort and the Ministry of Health.
It was conducted by German specialist, Dr Angela Leonhardt, who received the help of IDC nurse Jodette Jhugroo and Romena Maria from the Desroches Island Resort clinic.
Various treatments, including check-ups, extractions, fillings and cleaning were provided during the camp which followed an eye-testing clinic held the previous weekend.
Dr Leonhardt said a lot of patients were diagnosed and received treatment for dental pulp stones – calcified material found in the dental pulp chamber, the central portion of the tooth. This, she said, is associated with poor dental health.
There were also a few cases of filling applications and extractions, but she generally described the workers' dental care as "healthy".
Dr Selvan said basic medical health care will be regularly provided to the outer islands with the aim of detecting potential problems and giving appropriate treatments.
He explained that the outer islands' medical outreach programme, which started with an eye-testing clinic, will move to other islands and will become a continuous exercise.
The tests are in line with the company's new programme of reviewing its work plan and various operational structures within departments, aiming to obtain maximum productivity from all its administered outer islands.
It is also part of a new visioning exercise programme initiated by the company's chief executive Glenny Savy, and is in line with the company's vision – 'To develop the outer islands in a manner that is economically viable'.