Seven retire at tuna factory
09-February-2012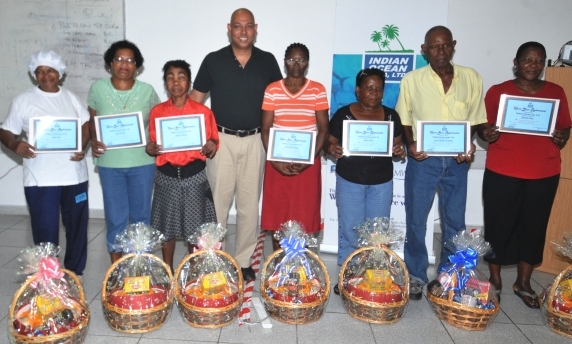 A small ceremony was held at the factory recently to thank the retirees for their service and to wish them happy retirement.
Present at the ceremony were the retirees themselves -- Christianne Durup, Diana Valmont, Lena Isnard, Gemma Savy, Marie Larue, Andrea Sophola and Anne Leon, as well as the company's general manager (GM) Joram Madnack, several management staff and supervisors.

Mr Madnack said the occasion was both a happy and sad one for the company.
"It is a sad moment because people who have been part of our family for years will be leaving us. But it is also a happy occasion because we know that they will now be enjoying their well-deserved retirement and will be doing things at their own pace and leisure," he said.
The seven former employees, who are all from the production department, worked as either fish cleaners, tray and basket cleaner, factory cleaner or case packers.
Mr Madnack wished them well in their future endeavours and then presented them with a hamper as a sign of appreciation.
The retirees, who also received certificates, said they will now enjoy some much deserved rest.
Retiree Lena Isnard – who has clocked 12 years of service and retired at 60 years old – said that although in some pain from an old injury, she will now rest for a bit but will then look for a part-time job for three days a week.
"I am also looking forward to spending some more time with my grandchild," she said.
Her colleague Gemma Savy – who has also notched up 12 years of service – said she is also up for looking after her grandchildren but has no plans to do any more work from now on.
"I am focusing on my home now and taking my time to do household chores without any pressure now that I've got all my time for myself," she said.
"I will also now catch up with old friends that I have not seen for some time but will always treasure the fond memories of my time spent here, especially since I was very active and always taking part in everything."