Exhibition raises awareness of importance of oral health care
10-February-2012
Organised under this year's theme 'A good oral health begins with you', the exhibition placed emphasis on the importance of oral care.
A follow-up of the department's recent activities, the exhibition was hosted by dental staff including dentists, lab technicians, dental hygienists, dental therapists and dental assistants.

The exhibits included, among others, posters, photos of mouth diseases, bookmarks, tooth brushes, toothpaste, and mouth wash. The public not only viewed them but also received explanation on the displays.
Dental hygienist Cynthia Noshir said the exhibition's main aim was to raise awareness of the different risk factors of oral diseases.
"Risk factors like excessive alcohol consumption, smoking, poor oral hygiene and poor diet contribute to oral diseases such as mouth cancer, decayed teeth and gum diseases," she said.
Miss Noshir also said there will be an oral screening on February 18 at the Yellow Roof building (dental) from 8am to 2pm followed by a second exhibition at the Orion Mall on February 25.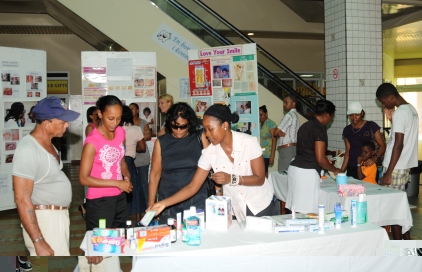 Our photo shows visitors to the exhibition getting explanations on the displays.