'Earth Charter' Creole version launched
10-February-2012
The event was attended by Foreign Affairs Minister Jean-Paul Adam, the Minister for Social Development and Culture Bernard Shamlaye as well as that for Investment, Natural Resources and Industry Peter Sinon.
Also present were other high government officials, representatives of local non-governmental organisation Sustainability for Seychelles (S4S), Creole Institute director Penda Choppy, Au Cap pupils and their teachers.
The 'Earth Charter' is a declaration of fundamental ethical principles for building a just, sustainable and peaceful global society in the 21st century.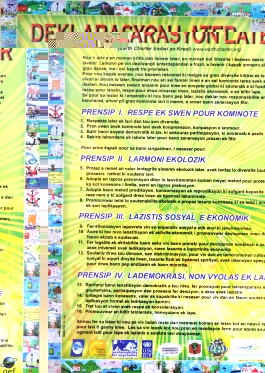 It was completed in March 2000 at the United Nations Educational, Scientific and Cultural Organisation (Unesco) headquarters in Paris, France and launched at the Peace Palace in The Hague, the Netherlands on June 29, 2000.
This charter has four principles – respect and care for the community of life, ecological integrity, social and economic justice and democracy, non-violence and peace.
Mr Adam said this year the Creole Institute will celebrate its 25th anniversary and this is the ideal place to launch the Creole version of the 'Earth Charter'.
"Today the world is faced with many challenges pertaining to the health of the earth, its water and oceans and its biodiversity are in danger as a result of climate change, pollution and destruction of habitats caused by human activities," said Minister Adam.
He added that for the sake of human race and the Earth, it is vital for us to live a more sustainable life adding "we have to live in harmony with other species."
Mr Adam said the welfare of the human race has been compromised by environmental issues and other problems as a result of war, hunger and diseases.
"Many of us are living our lives believing that issues that are affecting other countries may not have a direct effect on us."
Mr Adam said several individuals and organisations in the world have contributed towards the 'Earth Charter' and "we all have to endorse it in order to live more sustainably."
Dr Michele Martin from the S4S said they have decided to endorse this charter as their aim is to promote sustainability.
She said some people find it hard to understand the concept of sustainability, adding "they understand the importance of protecting the environment but not its economical, environmental and social aspects."
She added that sustainability is humankind living in relative harmony with nature and each other.
"The 'Earth Charter' is a simple document which brings these aspects together in a way which is easy to understand.
"We want to use this document as a tool to help people better understand the concept of sustainability," added Dr Martin.

She said the S4S asked the Creole Institute to translate the document and in doing so the institute also discovered the importance of Creole traditions for sustainability.
"Any individuals as well as communities and religious groups can endorse the 'Earth Charter'," noted Dr Martin, who added that the Creole version is available on the website www.earthcharter.org for any Seychellois wanting to use it as a tool for sustainability education.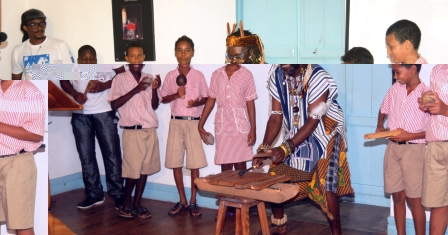 During the ceremony, local poet Tony Joubert (more commonly known as Raspyek) recited a poem based on the document and Achille 'Kwame' Luc performed a musical piece.