Five-star hotel brings first electric jeep to Seychelles
10-February-2012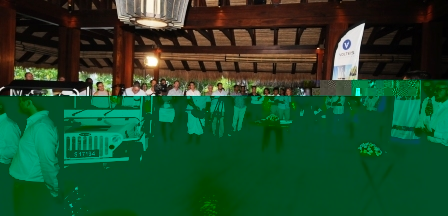 Several guests were invited to the gathering to view the white Volteis jeep, which is fully electric and looks a bit like a Mini Moke.
Among them were secretary of state in the President's Office Barry Faure, Home Affairs, Environment, Transport and Energy Minister Joel Morgan, as well as the French ambassador to Seychelles Philippe Delacroix.
The resort's general manager, Frederic Vidal, the Seychelles Tourism Board chief executive Alain St Ange and the Volteis representative Jean-Baptiste Salmon were also there.
Mr Vidal said Maia has decided to purchase the Volteis jeep from France to show that such a vehicle can be used in Seychelles.
He added that he has driven it around Mahé, up to Sans Soucis and La Misère.
"It is an ideal vehicle for the Seychelles and environmentally friendly," he said.
"This car is like the Mini Moke of the 21st century."
He added that it takes six hours to fully charge its battery, but one does not have to wait for it to be discharged fully to recharge it.
"Maia Resort has paid about 22,000 Euros for the vehicle, and we did not pay any taxes as the government has decided to remove tax from electric cars," Mr Vidal said.
He said the resort's staff and clients will be able to use the car.
Mr Salmon said the jeep is economical and has a low maintenance and releases almost no air pollution.
"This jeep can be charged on any electricity outlet and has a top speed of about 60km/h and does not cause noise pollution."
During the ceremony, Mr St Ange announced that the new Volteis electric jeep will lead this year's Seychelles carnival in March.
"We are moving towards sustainable tourism and this vehicle shows that Seychelles is serious in protecting its environment," he said.
Mr St Ange said La Digue will be the first island to go green with electric vehicles.
Seychelles has increased its interest in electric transportation due to rises in oil prices as well as the environmental impact of petroleum-based transportation.