Five Somalis deported
10-February-2012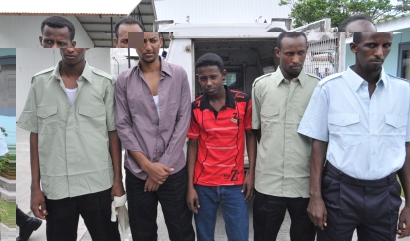 They left the country yesterday on an Island Development Company (IDC)-chartered flight.
The five Somalis were picked up in distress last year by an oil exploration vessel, and though they were first thought to be operating as pirates, the interception produced no evidence to support this.
Subsequently, the Seychelles government through the Ministry of Foreign Affairs immediately began repatriation procedures with the relevant authorities in Somalia and partners, the United Nations Office on Drugs and Crime (UNODC), who are funding and overseeing the transfer.
"This is only the second repatriation exercise we have undertaken and it has allowed us to familiarise ourselves with the relevant mechanisms needed in order to return Somalis to their home territories. It is a valuable learning experience in itself," said the Minister for Home Affairs, Environment, Transport and Energy, Joel Morgan, who is also the chairman of the high level committee on piracy.
The minister also explained that it is expected this repatriation exercise will soon be followed up by the first transfer of convicted Somali pirates in the coming months.
Foreign Affairs Minister Jean-Paul Adam said that his ministry is working closely with partner countries and international organisations like the UNODC to increase the support given to Seychelles and to make the repatriation of convicted Somali pirates a reality.
The first repatriation exercise took place in December 2010 and involved the deportation of nine Somali men after local authorities established there was insufficient evidence to prosecute them for suspected acts of piracy.