National theme launched with call to work harder
11-February-2012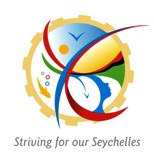 He did so at the International Conference Centre in a ceremony attended by President James Michel, chief justice Fredrick Egonda-Ntende, ministers and other important guests, who also witnessed the unveiling of the theme's logo.
Mr Meriton – who is also the Minister for Community Development, Youth and Sports – said we are being called to do a little more than usual, and commended those who will put in extra effort to build Seychelles, but decried those who defeat such efforts with negative inputs like drugs, "which destroy our youth and families".


He talked of the importance of linking the theme not only to economic aspects but also to other important related attributes like social renaissance and spirituality, underscoring the need for honesty, compassion for one another and love for our country.
During the ceremony, different groups of people illustrated their professions like information technology, policing and engineering, while others drove home the message – of the need to work hard – through songs, choreography and theatrical performances.
Pastor Michael Bijoux of the Seventh Day Adventist Mission explained why it is part of our spiritual responsibility to work hard.
The logo features a wheel "which we need to continue pushing for it to roll", fish and coco de mer representing our main industries – tourism and fisheries – and other elements which the designers said represent work and our national resources.

The following are some pictures taken by our photographer Patrick Joubert at yesterday's ceremony.