Foreign Affairs reaffirms role in promoting public diplomacy
11-February-2012

Foreign Affairs Minister Jean-Paul Adam said this while addressing guests on Thursday evening at the annual reception for members of the diplomatic corps.
"Over the course of this year, we look forward to working with each and every one of you to strengthen our cooperation and to enhance the links and exchanges between our peoples, through new and innovative means," he said.
We count on your support to bring our diplomatic efforts closer to the Seychellois people, he added.
The cocktail reception, held at La Plaine St André, was attended by former President James Mancham, Chief Justice Fredrick Egonda-Ntende, ministers, foreign affairs principal secretary Maurice Loustau-Lalanne, Members of the National Assembly, other high government officials, members of the diplomatic corps, honorary consuls and staff of the Ministry of Foreign Affairs.
"Despite all the challenges before us, we face the year, however, with determination to strive for our Seychelles. Our resolve is stronger than ever," he said.
Mr Adam said Seychelles continues to be at the forefront of the ongoing efforts to tackle piracy off the coast of Somalia.
"We continue to emphasise the importance of more support for regional states such as Seychelles, the need to consolidate areas of stability within Somalia, the need to end impunity of pirates and the need to take action against the financiers of piracy," he said.
"Most importantly, we are also continuing to work with a number of partners to be able to resolve the bottleneck of pirates who have already been convicted," he added.
There are 67 convicted pirates currently in the country, a further 18 have been accepted recently on the understanding that Seychelles is able to transfer convicted prisoners to internationally monitored prisons within Somalia as a matter of priority.
"We will continue to fight to allow our people to be able to take advantage of our own natural resources without fear," he said.
Seychelles will throughout this year continue to work towards reinforcing the role it plays as a reliable partner in promoting peace and stability in the region and beyond, he added.
Mr Adam also thanked all bilateral partners who are looking to develop partnership with Small Island Developing States (Sids) such as Seychelles on renewable energy and combating climate change.
"As we prepare for the Earth Summit in the Rio+20 Summit in June this year, we also ask all our partners to be open and to rethink the rules which govern global development," he added.
Seychelles has recently concluded visa waiver agreements with Turkey and Brazil, bringing the total number of countries to which Seychellois can travel freely to 74 nations.
"We are working to further enhance the opportunities available to Seychellois through such agreements, as well as other agreements that ease investments, trade and exchanges between peoples," he said.
"As promised, we opened a new embassy in Abu Dhabi in 2011, and we will continue working towards establishing two new missions over the next two years," added Mr Adam who also paid a special tribute to the Ministry of Foreign Affairs staff who have stepped up to the challenges placed before them with enthusiasm and determination, and helped to make the ministry more innovative and more relevant in a constantly changing landscape.
He proposed a toast to good health and the continued excellent working relationship Seychelles enjoys with all its partners.
Cuban ambassador to Seychelles, Maria Aida Nogales Jimenes, who is also the dean of the diplomatic corps here, said despite the worldwide economic crisis, there are a number of reasons to congratulate Seychelles on its successes throughout 2011.
On behalf of the diplomatic corps, she said Seychelles will continue to receive help from its partners.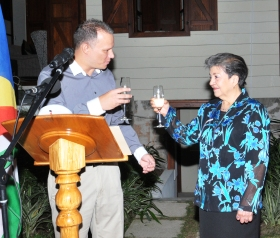 She also proposed a toast to the friendship between the people of Seychelles and its partners for the continued prosperity of the Seychellois people, for the wellbeing and good health of President James Michel and the presidents of all countries represented here.