Samba queen to lead Brazilian delegation in carnival
11-February-2012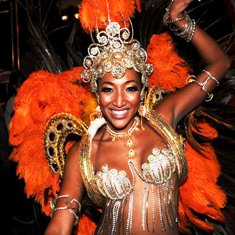 The group is currently in the United Kingdom and will be flying to Seychelles alongside the Notting Hill carnival delegation.
The Brazilian delegation was a great hit at last year's carnival in Seychelles and this year their presence is greatly anticipated.
They will be parading in the carnival procession alongside the best and most known carnivals – Notting Hill from the UK, Trinidad & Tobago and Dusseldorf from Germany.
They will be accompanied in the carnival procession by cultural groups from the community of nations.
Altogether 26 international delegations will be heading to Seychelles for this year's carnival which is being jointly organised by Seychelles and Reunion.