Teri University and UniSey seek to tackle global issues
11-February-2012
Mr Michel noted the efforts in his acceptance speech which he made upon being conferred an honorary doctorate in Philosophy by the chancellor of Teri University and director-general of The Energy and Resources Institute (Teri), Dr Rajendra Pachauri, in a ceremony held at the university in New Delhi.
During his visit to India last week, Mr Michel called on all nations of the world to take more responsibility for the actions needed to slow down climate change, as well as urging the peoples of those nations to put pressure on their governments to ensure their pledges turn into reality.
He did so when he addressed the Leadership Panel of the Delhi Sustainable Development Summit 2012, alongside the President of Finland Tarja Ha/lonen and the President of Kiribati Anote Tong.
He also met Indian Prime Minister Dr Manmohan Singh in New Delhi, and discussed ways to strengthen bilateral cooperation as well as improve regional security. Both leaders reaffirmed the value of our countries' privileged partnership.
Mr Michel – who was accompanied by Foreign Affairs Minister Jean Paul Adam, Ambassador Waven William and UniSey's vice-chancellor, Dr Rolph Payet – was on a working visit to India.
Among those present when Mr Michel was awarded an honorary doctorate by the Teri University were Dr Pachauri, former President of Guyana, Bharrat Jagdeo, and Norway's Minister for Environment and Development Cooperation Erik Solheim.
Dr Pachauri outlined some of the major drives President Michel has led, noting that the Head of State is firmly steering the country towards the path of sustainable development and has been championing the cause of small island states particularly in the face of climate change, hence the university decided to honour him with the doctorate.
We have published here some of the pictures taken during Mr Michel's visit to India as well as his acceptance speech.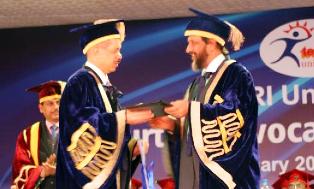 -----------------
President Michel's acceptance speech
I am deeply honoured that this distinguished university has chosen to confer an honorary
doctorate on me today, and I dedicate my acceptance of this prestigious award to the people of Seychelles.
I am greatly touched by your warm welcome and generous remarks.
May I also express my sincere gratitude to Dr Rajendra Pachauri for his kind words and his efforts in keeping climate change on the global agenda.
Today's occasion is one of special significance and pride, as it both acknowledges and enhances the long-standing cordial relationship the Republic of Seychelles enjoys with the Republic of India.
Moreover, this honour is particularly reflective of the collaboration between your esteemed chancellor, Dr Pachauri, and the vice-chancellor of the University of Seychelles, Dr Rolph Payet, in relation to their excellent and much-heralded work in the Intergovernmental Panel on Climate Change (IPCC), which shared the 2007 Nobel Peace Prize with the US Vice-President, Mr Al Gore.
The two universities have been built upon the same vision that seeks answers to today's local and global problems of climate change, sustainable development, governance and energy independence. We recognise today that without such institutions we will not be able to understand the changes that are happening and also not avail of the opportunity for us to address those challenges within our own context and constraints. Expanding our knowledge on climate change science will help us to better understand the dynamics of the ocean that we share."
Transfer of technology
Technology transfer in developing countries also presents some unique challenges. The collaboration between our two universities will help us build capacity for renewable energy development in Seychelles. Our vision to transform the Seychelles energy sector stands firm, and for it to be a reality we need well-trained specialists in the area of energy management, innovation and planning.
Indeed, it is a pleasure to visit your splendid university, to see the innovations you pursue in sustainable development, renewable energy and climate change. We need more institutions like yours which devote their attention to addressing the challenges of our times.
In a relatively short period of time, Teri University has come a long way, aspiring – as set out in its mission statement – "To contribute globally by serving society as a seat of advanced learning, promoting learning through teaching, creating and sharing knowledge, and committing itself to academic excellence and an environment which will encourage personal and intellectual growth".
Under the impressive and successful direction of its chancellor, Dr Pachauri, the Teri University has achieved significant progress as an institution of higher learning, with a strong foundation of research and innovation. Stimulated and motivated both by the ethos and traditions of India, and the vast store of knowledge, experience and research activities of its parent body, the Teri University has become a global institution, attracting highly qualified students to enroll in PhD and Master's degree programmes.
Teri University has also shown remarkable prescience and leadership in relation to issues of governance and climate change. May I congratulate you on your progress and your excellent contribution to the global environment through your "leading edge" research and education programmes, aimed at tackling global and local challenges of sustainability, energy, food and water security, globalisation, development and technology transfer in the developing world.
Since Seychelles gained its independence in 1976, Indo-Seychelles relations have been characterised by close friendship, understanding and cooperation, with high level exchanges of visits from both countries.
Since the early 1980s – under the ITEC (Indian Technical and Economic Cooperation) programme – Seychelles has benefitted from the knowledge and education achievements of India. To date more than 500 Seychellois have benefited from various training courses under this programme.
Experts share knowledge
Over the years, a number of Indian experts and scientists have been deputed to Seychelles in areas of environment, information technology, agriculture, forestry, law, police, medicine, maritime research and security and in the military. Today we have a fully-fledged IT centre, ran with the support of prestigious research and teaching institutions in India.
Seychelles was also among the first countries to be connected through the PAN-African satellite network, a facility funded by India for Tele-medicine and Tele-education.
It is a privilege and a pleasure to be here today, as this distinguished university sets its sights on making further significant progress, in the early part of the 21st Century, as a reputable international higher education institution.

I am deeply grateful for your kind invitation, for the special honour you have bestowed on me, and for the fruitful collaboration which Teri University is forging with the University of Seychelles; a partnership which, I am sure, will bring considerable benefit to my country.
I am a passionate advocate for education and the promise it holds for our country in the years ahead. The Seychelles Education Reform Programme, which we launched in 2009, has already delivered positive developments in our education system, with good progress already achieved in the area of Early Childhood Education, the establishment of School Councils, revitalising citizenship education, the introduction of a new Tertiary Education Act, and the inauguration of the University of Seychelles, with further developments under way in the reform of the secondary school structure and curriculum.
In 2008 we also launched the Seychelles Young Leaders Programme, in partnership with the Institute of Public Administration in Ireland, and last week we welcomed the third batch of students on this specially designed Masters programme. This programme which is aimed at preparing the leaders of tomorrow will also have a specific module on sustainable development delivered by the University of Seychelles.
I am profoundly honoured that this distinguished institution of higher learning, which is contributing so much to the human cause on so many fronts, has included me as one of its honorary graduates.