Football: Joel De Commarmond to run for SFF hot seat-Contender aims for open door policy
13-February-2012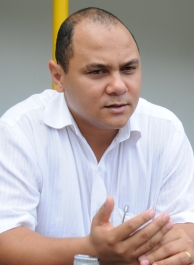 During the sport's annual general meeting to be held on Saturday February 25, Mr De Commarmond will be vying against two candidates – present SFF vice-chairman Roch Henriette and Dereck Barbé – to succeed Suketu Patel who resigned in December last year.
If elected, he will be the third person to head local football after Mr Patel (1980-1991 and 1994-2011) and Finley Racombo (1991-1994) during the past 32 years.
Speaking to Sports Nation, Mr de Commarmond, who is the head of programme of the Seychelles Young Leaders Programme within the University of Seychelles, said he will adopt "an open door policy". He explained that for the past 20 years, he has experienced and appreciated the way a club is run from top to bottom and a lot has been done for football as a whole. For this, he hails Mr Patel for his great contribution during his time spent as chairman.
However, after having felt the hardship at club level and having spoken to other clubs representatives, he said a lot more should be done to take the sport to the next level.
Mr de Commarmond said giving more help to smaller club will be among the top priorities on his agenda. This, he said, will boost the level of local football by bringing all clubs to the same level, thus giving them fair chances and make them equally competitive and also make the sport more fun and exciting for the fans.
Defending the gold medal won at the last Indian Ocean Island Games (IOIG) held on home soil last year is also among the immediate targets on his programme.
He also said we should adopt a more modern approach and follow the up-to-date trend of world football.
"Being the champions of the Indian Ocean region should be a platform for us to take a new football trend and target higher achievements, such as obtaining an African Cup of Nations (Can) qualification," he added.
"A strong youth development programme will also be set up to ensure progress and the growth of Seychelles football," Mr De Commarmond said. He added that the level of youth football has steadily decreased over the years and the situation needs to be dealt with immediately.
He explained that together with club officials, they will look for solutions to stop the decline in level so as to secure the quality of local football.
Among the new strategies is the organisation of an annual regional tournament at youth level for all league and cup winners so that young players can get used to playing international matches very early. He added that such a competition can give the young players the opportunity to be scouted by professional clubs.
For football lovers who do not take part in the national leagues, Mr De Commarmond said there will be other alternatives such as futsal and beach tournament on a continuous basis which will be organised jointly with various stakeholders.
Other areas Mr De Commarmond has promised to touch during his mandate if elected include the league format, transfer policy, awards and recognition for winners, an archive and library for the SFF, women's football, funds and equipment allocation to clubs, among others.
He also plans to set up a hall of fame to recognise former players for their contributions towards Seychelles football.
As part of his election campaign, Mr de Commarmond has submitted to all local clubs a manifesto which highlights his plans for the next four years.
Sports Nation hopes to bring you interviews with the other two candidates in the coming days.
Qualifications
2006 SFF Coaching 'C' License – Seychelles Football Federation
2009 Caf Coaching 'C' License – Seychelles Football Federation
2010 Win in Africa with Africa Coaching Course – Seychelles Football Federation
2011 Caf Coaching 'B' Licence – Seychelles Football Federation
Experience
1993-1998 Player – St Louis FC
1998-2000 Manager – St Louis FC
2000-2002 Manager – St Louis Youth FC
2002-2004 Player – Canning Chile Football Club, Western Australia
2006-2008 Coach – St Louis Suns Youth FC
2009-2011 Coach – The Lions FC
R. D.