SBC makes special broadcast to mark Radio Day
14-February-2012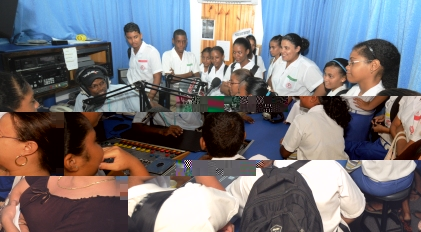 The United Nations Educational, Scientific and Cultural Organisation's (Unesco) general conference last year proclaimed February 13 as World Radio Day "to celebrate radio as a vector for education, freedom of expression and public debate as well as a source of vital information in times of natural disasters."
According to Unesco, the radio is considered as the most prevalent mass medium in the world with the ability to reach 95% of the planet's population.
To commemorate the day the SBC AM and Paradise FM aired several interesting games for their audience.
The head of radio production, Jeannette Julienne, said the AM radio which normally goes off air for over two hours in the afternoon, broadcast throughout the day for this special occasion.
"There were interviews with staff who have worked for over 20 years at the station; they included technical operators, some people from administration and other support staff."
Mrs Julienne said there was also a documentary about radio in Seychelles and the public were able to take part in radio games.
"Winners will get the chance to either choose a selection of songs or visit the station."
Past broadcasters were also invited to share their experiences working for radio and also how this media has evolved in Seychelles throughout the years, Mrs Julienne said.
During the day students from nearby schools visited the station at Union Vale to see how it operates.
The SBC is the only radio station in Seychelles and it has two channels – the AM and FM.

The AM channel is for the locals and is aimed to give community service. It is popular for private announcements, notices and messages. Programmes are broadcast in Creole, English and French. These include documentaries, games, children's programmes and music.
The Paradise FM which operates on a 24-hour basis gives mostly music as well as sports, news, advertisements and talk shows.
Public broadcasting in Seychelles dates back from 1945 with a daily one-hour broadcast run by the Department of Education, using the facilities of the Cable & Wireless telecommunications company.
On July 10, 1965 Radio Seychelles first came on the air from a studio at Union Vale.