Spain pledges continued anti-piracy support
15-February-2012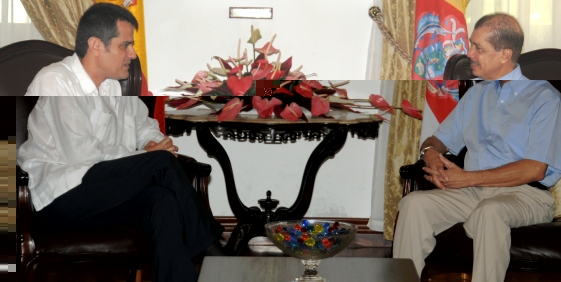 Miguel Fernandez-Palacios Martinez said this at State House yesterday after presenting his credentials to President James Michel, becoming Spain's new ambassador.
"The President and I spoke about the problem of piracy for a long time. Right now we have two Spanish doctors being held in Somalia after they were kidnapped," said the new ambassador, after greeting the media and saying a few sentences in Creole.
"As you know we have a Spanish fishing fleet which is based here and we have to have security on board. For us piracy is a matter of national security and we know it is the same for Seychelles so we are working hand in hand because piracy is a menace for both the Spanish and the Seychellois societies.
He noted that at the moment Spain is commanding the European naval force Atalanta which has deployed forces in the Indian Ocean to control piracy.
Mr Martinez was accompanied by Spanish Rear Admiral Jorges Manso and top officials from the Spanish military.
He is based in Ethiopia and said he hopes to come here often especially when that country's national carrier starts regular flights here "taking only four hours to get here from Addis Ababa".
Mr Martinez is due to call on the speaker of the National Assembly Dr Patrick Herminie today.