India to supply US $10m radar
15-February-2012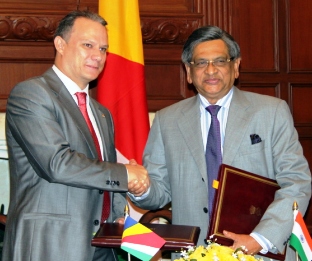 Foreign Minister Jean-Paul Adam – who is currently on an official visit to Delhi – signed the agreement with his counterpart the Minister for External Affairs, S. M. Krishna, following a bilateral meeting on deepening cooperation between the two states.
This is Minister Adam's first official bilateral visit to India, primarily as a follow-up to issues discussed between President James Michel and Prime Minister Manmohan Singh during Mr Michel's visit to Delhi earlier this month.
"The signing represents a significant step-up in our capability to better secure our EEZ, particularly against the threat of piracy and better protecting our fisherman at sea, and this generous support shows the partnership and commitment of India in protecting the Indian Ocean," said Mr Adam.
The bilateral discussions mainly focused on deepening cooperation particularly in areas of defence, maritime piracy, and education.
Mr Adam applauded the Indian Navy's rules of engagement, for what he described as an effective and strong deterrent against piracy in the region, and the Indian government's initiatives to explore updating local piracy laws.
Among other areas of cooperation discussed with Mr Krishna, including a follow-up on the Dornier aircraft being gifted by the Indian government was a commitment to further increase cultural and youth exchanges between the two states.
Mr Adam – who is accompanied by the High Commissioner Designate to India Waven Williams and the Seychelles Chargé d'Affaire to India Jean-Claude Adrienne – will be in India till February 16, during which time he will be meeting with other high level officials.
The radar the two governments signed for will allow a better picture of the southern EEZ and complement the radar system already donated by the United Arab Emirates which covers the northern EEZ. The system will be managed by the Seychelles People's Defence Forces.
Cooperation between India and Seychelles currently centered on military cooperation, through the provision of experts, training, equipment, joint training exercises and joint surveillance missions; education, through the provision of scholarships and technical training opportunities; as well as health, trade and investment, and information technology.
President Michel visited India in February 2012 to attend the 2012 Delhi Sustainable Summit.
Other areas of cooperation discussed include trade and investment, culture, hydrocarbon sector, and fisheries.