Twinning yields books for Anse Boileau pupils
16-February-2012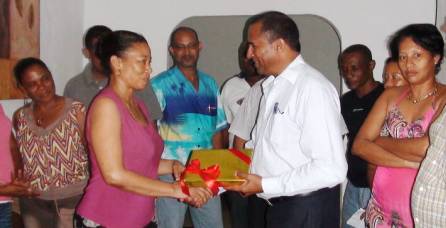 The president of the council, Krishna Rutnee, presented the books to the head teacher of the west Mahe school, Milena Richard, during a recent visit by the group to Seychelles.
The twinning programme between the Anse Boileau and Black River districts has been vibrant for the past seven years.
The books cover a wide range of subjects and came from several districts across Mauritius.
The donation followed a request by the Anse Boileau district and school for more reading materials.
Relations between the school and the council date back several years now and have given birth to an annual educational exchange between pupils and students of the two districts.
Mr Ruthnee – who was on an unofficial visit to Seychelles – was accompanied by the council's chief welfare officer Veerandranath Goomany.
They met other partners involved in the twinning programme including Anse Boileau district's twinning committee, which is chaired by district administrator Valcy Naiken.
They also met the school's management and partners like members of its council and parents/teachers association, as well as the district's past and present National Assembly members.
They assessed success of activities planned for the last year and reviewed those planned for 2012.
A Black River district council delegation is expected in Seychelles soon for the third renewal of the twinning agreement which also includes exchange programmes for young people, women and senior citizens.