Local DMC taps into Hungarian market with special chartered flight
16-February-2012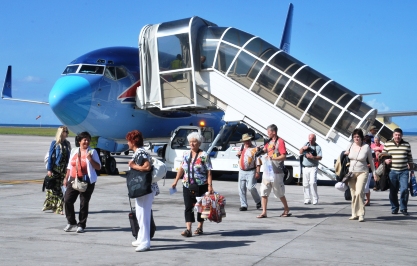 The event is a collaboration between the 7° South Destination Management Company (DMC) and the Safari Travel Company in Hungary, in a bid to tap deeper into the European market and attract more tourists from there to Seychelles.
Safari Travel, who specialises in making charters to African countries, agreed to bring a group of their clients here from Budapest. Half of the load of their original flight got off at Mombasa, and the other half decided to come to Seychelles.
A company representative, Lazlo Luttenberg, said through a translator that Kenya has been a long-time favourite of their company, but they are now looking for some other possibilities which are close by, like Seychelles.
"We hope that we will be successful here and that our partnership with local DMCs will continue to be fruitful," he said.
The product and contracting manager at the 7° South company, Doris Coopoosamy, said Safari Travel makes an annual event of these charters from November to end of February and they managed to negotiate with them in bringing part of their charter to Seychelles.
"This is very special for us, and if it is a success, we will aim to get more clients from the Eastern European market," she said.
"We have been working on this project since last year and although bookings came and were finalised mostly at the last minute, we certainly hope to get more bookings on another charter soon."
She added that such a charter – especially with the economic crisis hitting Europe – means they will have to be more proactive instead of waiting for normal scheduled flights and they will push to maintain tourism numbers and give a boost to the tourism industry.

"Other markets we see as ripe for picking are emerging markets such as Asia and why not even South America," she said.
The 100 plus visitors – who will spend a week in Seychelles – are expected to leave on February 22.