Social networking training-Delegates urged to stand strong for gender and children's rights
17-February-2012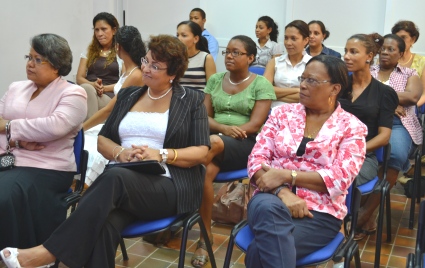 Addressing the delegates, the Minister for Education, Employment and Human Resources Macsuzy Mondon said:
"Go out there and develop a community of responsible technology users who will help to promote the message.
"I hope that the workshop has equipped you with skills to promote change in the thinking about gender and children's rights so that we can look forward to a just and non-violent society where all our citizens feel safe and valued.
"My government is committed to the cause, and I can assure you of our support."
Mrs Mondon was speaking to a group of people from the National Council for Children (NCC) and the Gender Secretariat in the Ministry of Social Development and Culture after they had completed a four-day social networking training on how to use words and visuals in more effective ways and how to design posters which would speak more directly to specific audiences.
The training was held last week at the Seychelles Institute of Management (SIM) and conducted by Dirk Slater, a UK consultant from Tactical Technology collective, recommended by the Office of the High Commissioner for Human Rights.
Delegates were given the chance to look at other successful strategies which use videos, you tubes, Facebook, twitter blog, personnel stories, mobile phones and other media to turn information into actions.
Social networking involves the building of communities or networks, encouraging the use of collective intelligence, participation and engagement of specific target groups and since the early 2000s a range of web-based services have been developed for that purpose.

In a vote of thanks on behalf of the group, Rodney Nicole -- a staff member of the NCC -- said:
"As advocates for children and gender rights we feel very strongly about what we do. We have learned to package our messages to make them more powerful and convincing and how to target different audiences and how to use new technologies to spread our messages even further."
"And this will change the way we use the internet today - how we interact with one another, and how we produce and share content," he added.
During the training, the delegates -- who are all pro-active in the promotion of women and children's rights -- created a facebook page for their respective organisations to reach a wider group of young people online.
Nearly four billion people worldwide have some access to computing and in Seychelles , 41% of the population has access to the internet. Mobile usage at the moment stands at 140%, so the use of social working tools is being seen as a cost effective way of communicating to a bigger and wider audience with minimal budget.
The workshop was funded by the EU from the 10th European Development Fund and this is managed locally by UNDP (United Nations Development Programme).