Le Duc de Praslin hotel goes green with first Magna Pool
17-February-2012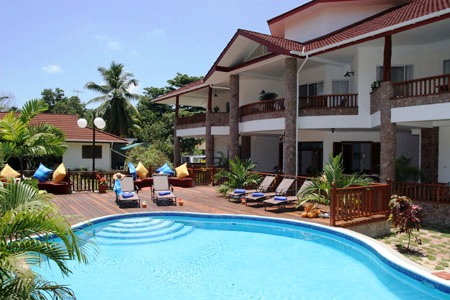 A Tourism Sustainable Label was launched last year and the concept of serious tourism is today being more widely promoted in a bid to consolidate for the long term the Seychelles tourism industry.
Le Duc de Praslin hotel, located at Anse Volbert on Praslin, has opted for an alternative ecological technology that cleans the pool better than normal chlorine using the concept of Magna Technology – the first time Seychelles uses the technology using magnesium to produce a non-synthetic chlorine.
Through a special filtration system the Magna Pool is designed to use crystals instead of sand that filters up to 5 micron compared to 40 micron by normal pool filtration systems.
Portrayed as one of the best ecological technologies in the world, the Magna Pool can save up to 65% of water consumption in the tourism establishments while reducing energy consumption.
Furthermore, with magnesium and potassium combined in the pool water, the mineral base which is environmentally friendly detoxifies the skin and body from its impurities resulting in a soft, radiant and smooth texture. It also reduces stress, anxiety, aches and pains.
In venturing into this green technology, Le Duc de Praslin has invested over R2 million to renovate its old swimming pool into a Magna Pool. It took four weeks to achieve this. The existing pool has been enlarged and equipped with a special filter system. A new deck has been incorporated as well as a new top-of-the-range Jacuzzi costing R225,000.
The renovation project was contracted to Harikishna Builders and pool specialist SW Pure Water Ltd.
Le Duc de Praslin hotel's initiative to adopt a Magna Pool has been welcomed by the Seychelles Tourism Board.
The manager of Seychelles Sustainable Tourism label Sinha Levkovic said: ''it is encouraging to see that at the moment when the Seychelles Tourism Board is initiating a sustainable tourism label to encourage and guide tourism operators in adopting sustainable practices in their daily operation, one of the local hotels is already making headlines in investing in the first Magna Pool systems.''
She concluded by saying that the Magna Pool ''is indeed a good news for the industry, as the system provides clients with a natural and therapeutic product free of synthetic chemicals with the added benefits".
Contributed