Maritime boundary delimitations-Seychelles signs historic accord with Comoros and Tanzania
20-February-2012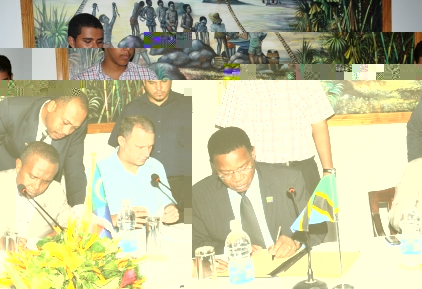 Guests at the signing ceremony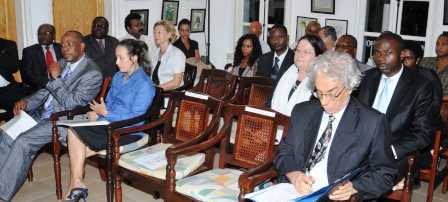 The signing late Friday evening at the Maison Quéau de Quincy followed three days of intensive negotiations by experts from the three countries.
The first accord was signed by the Seychelles Minister for Foreign Affairs, Jean-Paul Adam, and his Comorian counterpart, Abdoulfatah Charif, while the second agreement also involved the Tanzanian Minister for Foreign Affairs and Cooperation, Bernard Membe.
Mr Adam said the issue of maritime boundary is as sensitive as land boundaries, and therefore, due consideration must be given to the political and technical positions of each country during the negotiation process.
He recognised that delimitation processes are generally complex and can be further complicated by real and potential situations within our countries, region and in the outside world.
"This is possibly why it has taken our countries more than 10 years to conclude this agreement," Mr Adam said, noting that serious and meaningful negotiations leading to the agreements signed Friday, started in October 2002.
Although the 1982 UN Convention on the Law of the Sea has set the legal framework for achieving maritime boundary delimitation objectives, it cannot cover all our respective geographical situations and specific requirements for equitable results.
Mr Adam said this was the work of the experts present at the signing, local and regional diplomats as well as international experts.
He also thanked the German government, represented by its honorary consul, Kirsten Henri, for its generous financial support for the project.
Minister Membe said a successful bilateral meeting on common maritime boundary between Tanzania and the Union of the Comores was concluded in 2010. This, then paved the way for the tripartite negotiations.
He said the signing of the agreement is a "milestone" in the history of the three countries. He noted that the long history of most African countries left a legacy of numerous disputed national boundaries after their independence.
"As a matter of fact, the ill-defined borders continue to be a potential source of persistent conflicts, especially when mineral and other natural resources are discovered in the border regions, with the attendant threats to peace, security and stability."
Mr Membe noted that to date, only about a quarter of sub-Saharan borders are clearly delimited and demarcated and last year the African Union summit extended the deadline for affirmation of African boundaries to 2017.
The Tanzanian minister also expressed appreciation to the Federal Republic of Germany for its generous technical and financial support to the African Union Border Programme.
Minister Charif said Africa needs to have peace and stability for its development.
He said the agreements will ensure that there is "bon voisinage" between the countries involved.
The team of experts who worked on the project were led on Seychelles side by Raymond Chang-Tave, Abdoul-had A. Mouhoussoune (Comoros) and Dr Selassie D. Mayunga (Tanzania).