Emirates' Open Skies magazine features forthcoming carnival
20-February-2012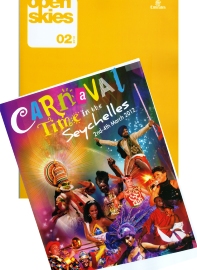 The in-flight magazine that sits in every seat pocket on all Emirates flights for the month of February has been raising awareness of the carnival staged annually in Seychelles in March.
The advert under the banner 'Carnaval Time in the Seychelles' shows the melting pot of cultures through the blend of international delegations that made up last year's carnival.
Emirates is the partner airline of the Carnaval International de Victoria and it is responsible to fly in the big majority of the 60-plus press contingent descending on Seychelles for this year's carnival.
Seychelles has teamed up with Reunion to organise this year's carnival. This is why the logos of both the Seychelles Tourism Board (STB) and La Reunion Tourism (IRT) featured on the promotional page in the Open Skies of Emirates.