'Right' economic climate lures global accounting firm
20-February-2012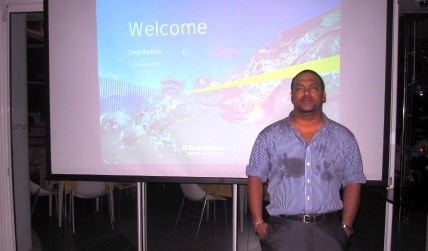 EY is one of the largest professional service firms in the world and one of what people call the Big Four accounting firms, along with Deloitte, KPMG and PricewaterhouseCoopers.
Its head office is in London and it has a presence in more than 140 countries.
The Seychelles EY office was launched at the Konoba Restaurant recently in a reception at which its country manager Oliver Bastienne addressed investors, industry experts, entrepreneurs, government officials and the wider business community.
He said Ernst & Young is a global leader in assurance, tax, transaction and advisory services, adding it "will be the most integrated professional services firm in the country".
"The growth potential for Seychelles represents a great opportunity for a firm like Ernst & Young to help our clients achieve their potential," he said.
The firm has been present in Seychelles since 2005. Gerald Lincoln, country managing partner for Mauritius, Madagascar and Seychelles said "the climate is right for EY to have a permanent office in Seychelles under the leadership of Mr Bastienne, a Seychellois passionate about his country and having six years of working experience with EY London.

"We believe in building sustainable practice by employing local talent and building local capacity to serve the local market."
He also thanked the existing clients of the firm for their trust and fidelity.
As a truly integrated firm within the African region, Ernst & Young's motto: Quality in Everything We Do, was one of the fundamental key notes stressed by Messrs Bastienne and Lincoln.
The launch gave Ernst & Young clients and the wider business community a platform to meet and discuss how Ernst & Young can make a difference in Seychelles, its clients and the wider communities to achieve their potential.
The permanent office of Ernst & Young is on the second floor of the Pirates Arms building in Victoria.