Students get paper-cutting skills for possible future career
21-February-2012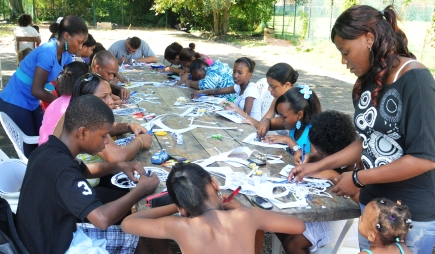 Students getting paper-cutting skills during the workshop on Saturday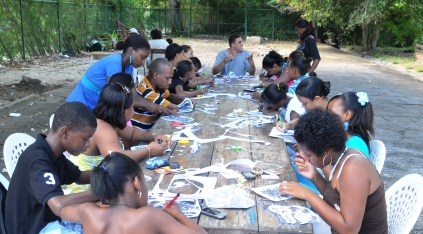 Around 20 students from the Beau Vallon, English River, Mont Fleuri, Plaisance and Belonie secondary schools gathered at the Youth Health Centre on Saturday morning for a half-day workshop on cutting out designs on paper, which they can use later to print onto clothes, scarves and other materials.
Event coordinator Christine Benstrong said the workshop is the initiative of the Seychelles National Youth Council's young entrepreneurs' unit.
"We are first of all giving students a skill they can develop and practice later on during the school holidays, giving them something practical to do instead of them roaming around or being bored as a lot of them tend to be," she said.
"Secondly, we have noticed a demand for this kind of product, but sadly not enough entrepreneurs are doing designing and printing. So we are encouraging them to follow this course and other similar ones we are going to have in the hope that they might venture in this field in the future and create a job out of it. There is a demand in Seychelles for locally designed and printed T-shirts, pareos, scarves and even tattoos."
Miss Benstrong added that this is the first such activity and there will be follow-up workshops where students will learn the next stages – printing and finishing.
"Being able to design and print a product is not enough, one needs to know how to give it a good finish so that it is truly complete and that the buyer gets a quality end-product," she explained.
"We are also working on organising workshops to give students other skills like broom-making, another product we see getting rarer on the market and is being replaced by imported brooms."
The next batch of students to benefit from these workshops is those from Mahe's western region.