Olympic Solidarity-Vijay Patel receives IOC trophy for sports 2011
21-February-2012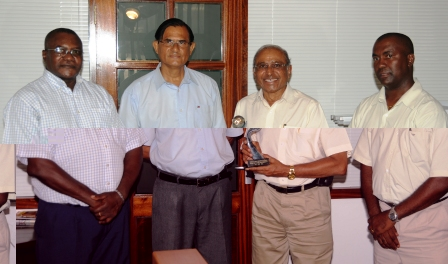 Seychelles Olympic and Commonwealth Games Association (Socga) president Antonio Gopal handed Mr Patel his trophy during a ceremony held at his Providence office yesterday afternoon. Socga secretary general Alain Alcindor and executive committee member Donald Celestine were also present at the ceremony.
Socga president Gopal thanked Mr Patel for his long-lasting contribution towards local sports and also towards social development here and urged him to continue his good partnership with different partners in the country.
Deprived of sports facilities and opportunities as a youngster, Mr Patel said it was only later in life that he realised the physical and mental benefits sports can bring to an individual.
He explained that "ever since I have been able to afford, I have been contributing towards the benefits of local sports and the wellbeing of local athletes."
A tennis enthusiast, Mr Patel said it is always his pleasure to seize any given opportunity to support sports-related activities.
"I am very happy all the contributions I've made have been recognised at international level," he concluded.
Set up by the IOC in 1985 with a different theme each year, the annual award is made available to each National Olympic Committee, which is then responsible for choosing the person to receive it.
Among the events sponsored by Mr Patel are the Mahe-Praslin windsurfing race for the past 20 years, the Vijay football youth league, the Vijay tennis league, the Vijay cricket league, the annual Vijay golf tournament and the annual Vijay squash tournament.
He has also resurfaced the Roche Caïman tennis courts, and was one of the main sponsors of the 8th Indian Ocean Island Games held on home soil last year, was a co-sponsor of the newly-built Amitié Stadium on Praslin and built the International School on Praslin.
Past recipients of the IOC trophy
1994: Socga president Antonio Gopal – International Year of Sports and Olympic Ideals
1995: Former Sports Minister Sylvette Pool – Olympic Movement Unity
1996: Brian Orr of the Seychelles Athletics Federation – Centennial Olympic Games
1997: Robert Auguste of the National Sports Council – Sports For All
1998: Sail Training Scheme – Sports Ethics
1999: John Marie – Sports and Education
2000: Former Seychelles Amateur Boxing Federation chairman Simon Lespoir – Sports and Universality
2001: Alain Alcindor of the Seychelles Yachting Association – Sports and Volunteer
2002: Sports doctor Kenneth Sherwin – Sports and Wellbeing
2003: State Assurance Corporation of Seychelles – Sporting Excellence
2004: Sports journalist Gerard Govinden – Sports and Media
2005: Seychelles Football Federation – Sports and Fair Play
2006: James Barreau – Sports and the Community
2007: Ministry of Education – Sport and Promotion of Olympism
2008: Doreen Mirabeau – Sport and Youth
2009: Seychelles National Anti-Doping Commission (SNADC) chairman Jean Larue – Sports and the fight against doping
2010: Boxing coach Jerry Legras – Inspiring young people.
R. D.