President Michel holds talks on new courses at London university
22-February-2012
He was received in the UK by Baroness Stowell of Beeston on behalf of Queen Elizabeth.
Mr Michel was met at the university by Sir Graeme Davies who later took him around the university's facilities accompanied by Professor Paul Webley and other senior staff with whom they held talks centred on the possibility of new courses at the University of Seychelles (UniSey), which is accredited to the UK one.
Mr Michel, who is the chancellor of the UniSey, was accompanied by its vice-chancellor Dr Rolph Payet -- who is featured in the London university's charts as one of the key people associated with the UK university.
The charts also feature well-known people like Nelson Mandela of South Africa.
Also present at the talks on Seychelles side was Environment, Natural Resources and Transport Minister Joel Morgan and University of London's head of corporate affairs Binda Rai who told Nation that the University of London's international programmes has a global network of 45,000 students.
"The external system plays a significant role in establishing many Commonwealth universities," she said, noting the system's former students include six Nobel Prize Winners: Sir Frederick Gowland Hopkins, Professor Ronald Coase, Wole Soyinka, Derek Walcott, Mr Mandela and Dr Payet.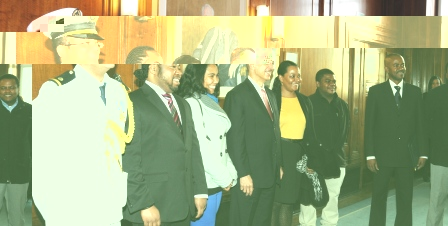 Mr Michel also met Seychellois students studying in the UK.
Also present in the UK during President Michel's visit is the British high commissioner to Seychelles Matthew Forbes.
Nation will come back with further details about the university visit and a series of other activities Mr Michel was involved in until late afternoon.

By George Thande, Seychelles Nation reporter in London