Implementing citizenship education in secondary schools
22-February-2012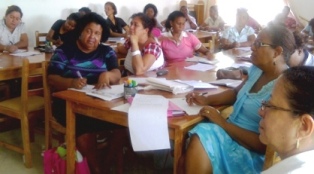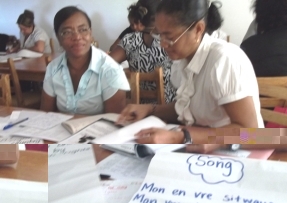 Teachers during the citizenship education training

Education, Employment and Human Resources Minister Macsuzy Mondon made a formal announcement about this curriculum change under the on-going education reform programme in her first meeting with heads of educational institutions on January 17, 2012.

As of term one, curriculum time is allocated on a weekly basis to citizenship education for secondary one and two students and the subject will be introduced in the other secondary levels as of term two. Preparation will be made during 2012 to also introduce the subject in primary schools in 2013.
To ensure the effective implementation of citizenship education in schools, the Centre for Curriculum, Assessment and Teacher Support (CCATS) has undertaken a series of capacity building workshops for head teachers, curriculum leaders and teachers who are teaching the subject.
On February 3 and 4, all secondary head teachers, deputy heads, heads of department responsible for personal and social education and citizenship education, followed a educational workshop based on the principle that support from school managers is a very important aspect in ensuring effective teaching and learning in any learning area.
This is the main reason why their workshop preceded that for teachers which took place from February 15-16.
During the three-day workshop, teachers had the opportunity to cover some basic concepts that feature in the first units of the citizenship education modules – identity, nationhood and democracy.
They also planned and simulated model lessons through micro-teaching so as to practice teaching and learning strategies relevant for citizenship education.

All workshops were facilitated by curriculum developers of the CCATS in collaboration with representatives from post-secondary institutions.
Apart from training, schools will be provided with resources for teachers and students, ranging from print to audio and visual materials.
All materials are being developed locally by the CCATS in collaboration with partners from schools and post-secondary institutions.
Each school will also be issued with copies of the Constitution of the Republic of Seychelles, including the simplified version.
Curriculum developers from the CCATS will visit each school as of next week to provide further support to teachers and curriculum leaders.
Teachers will meet again on April 5 to provide feedback on how the implementation of citizenship education is progressing.