Carnival gets greater visibility
23-February-2012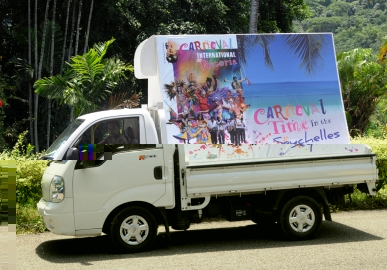 Walter Confait and his advertising agency of Anse Aux Pins has offered the Seychelles Tourism Board (STB) to have a double sided travelling billboard right up to carnival day.
The offer has been welcomed by the carnival organisers and since the last couple of days the white pick-up truck has been seen all over Victoria and Mahe itself with the poster 'Carnival Time in the Seychelles'.
It was the chief executive of the STB, Alain St Ange, who set the pick-up on its promotional runs from the STB head office at Bel Ombre.
"The carnival is an event for Seychelles. It is an event for every Seychellois and it is so nice to see members of the business community come forward with fresh and new ideas to help increase the visibility of the event that is set to remain the biggest event organised in Seychelles," Mr St Ange said.
Recently Emirates included a promotional page in their February issue of their worldwide inflight magazine promoting the Seychelles carnival.
The island's major newspapers are now regularly publishing articles aimed at updating the Seychelles population on the carnival set to start on March 2 in Victoria.