Rotary Club gives out prizes to lottery winners
27-February-2012
The Club's president Nandu Raghvani presented the keys of a brand new Kia Rio to Mr Pietro yesterday.
The prize-giving ceremony was held at the Providence showroom of Excel Motors – the sponsor of the star prize.
Others who came to collect their prizes were the first three winners. First prize winner Jossy Finesse of La Gogue received her return ticket to any destination -- except the United States of America and Australia -- sponsored by Qatar Airways.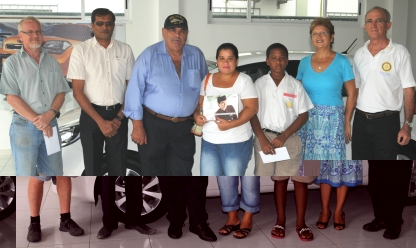 Jean-Luc Florine of Roche Caïman collected his net book and one-year internet connection package sponsored by Cable & Wireless as second prize.
The third prize – a desktop computer sponsored by Global Computer – went to Errol Volcère of Anse Etoile.
Mr Raghvani said all proceeds will go towards community work, with the main project being the installation of a new water storage system for the hospital, hospice and Old People's Home of North East Point.