Health gets over US $1.4m worth of technical support
27-February-2012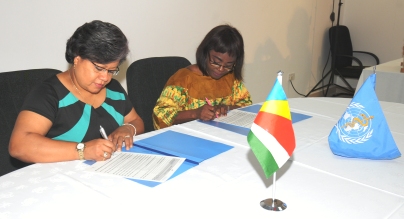 This was made official on Friday during a ceremony at the Sheikh Khalifa Diagnostic Centre where Health Minister Dr Erna Athanasius launched the new Biennial Plan for 2012-2013.
Dr Athanasius and the WHO Liaison Officer, Dr Cornelia Atsyor, signed the joint WHO-Ministry of Health plan of action in the presence of the health principal secretary Dr Bernard Valentin.
Also there were the director general for public health Dr Shobha Harjanis, chief medical services officer Dr Anne Gabriel, members of the central management team as well as other health officials.
The health ministry also received two donations worth over €50,000, which included one microscope and 20 pieces of emergency kits and portable defibrillators from the WHO.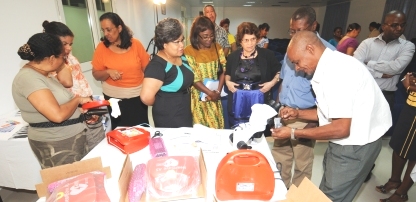 Dr Athanasius said this significant funds will be used in programmes, projects and activities in the fields of communicable diseases, chronic non-communicable diseases and reproductive health.
"Other areas of priorities are emergencies and disaster preparedness and response, social and economic determinants of health, nutrition and food safety, health systems development, medical products and technologies."
She said these thematic areas fit perfectly, not just into WHO's proclaimed strategic objectives and the ministry's stated goals, but also into the unwavering promise of this government to bring health services closer to the people and citizens of Seychelles moving ever closer to optimum health.
She added that no other partner in health has been that reliable and that consistent over the past 35 years.
Dr Athanasius thanked the WHO and the Ministry of Health for working on the plan, adding that the programme managers will now have to turn what is down on paper into measurable health outcomes.
Dr Atsyor said the Ministry of Health started developing plans for the use of this fund for the biennium 2012-2013 way back in 2010 'through a bottom up and participatory approach for all inclusive programming in which priorities were defined.'
She added that though the country has achieved excellent Millennium Development Goals indicators, there are some challenges.
"The infectious disease control is not completely dealt with yet due to newly emerging diseases and global threats such as the H1N1 outbreaks."
Dr Atsyor said the Health analysis has shown upsurge of non-communicable disease such as heart diseases, diabetes, high blood pressure as a result of lifestyle issues like increasing alcohol and cigarette consumption, drug abuse, sedentary lifestyle, increase in sugar, salt and fat intake and increasing rate of obesity.
"This state of affairs has created a double burden of communicable and non communicable disease."
There is therefore the need to address the socio-economic determinants of health, she said.
She added that teenage pregnancy is on the increase with almost a third of all first pregnancies occurring in the teenage.
"The adolescent health policies and legislation in the country need to be harmonised to improve adolescent health outcomes.
Contraceptive prevalence rate for modern contraceptive is decreasing and there is now an increasing rate of illegal abortions."
Dr Atsyor added that climate change is now a global phenomenon, and the need for contingency planning for the effects of climate change are important and the need to carry out the Libreville Declaration on Health and the environment.
(This declaration commits governments to take measures to stimulate the necessary policy, institutional and investment changes that should be effected to optimise synergies between health, environment and other relevant sectors.)
Dr Atsyor said she hopes that the fund provided for the biennial plan will support the health development and improve the health of the population of Seychelles.