SAWOP members discuss strategies
28-February-2012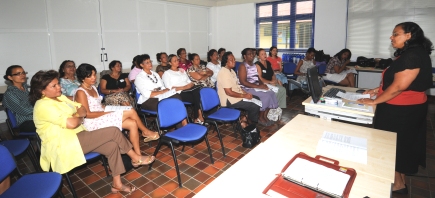 The event, which took place at the Seychelles Institute of Management (SIM) at Ma Joie, was attended by Sawop members including its patron, Simone De Comarmond, and chairperson Sandra Crewe.
Mrs Crewe said the main aim of the workshop was to bring Sawop members together for networking as well as resituate themselves as an association.
Another objective was to inform members of recent developments in gender, both nationally and internationally, as well as develop a framework for a strategy based on members' feedback.
Among some of the topics discussed was the potential for partnerships between Sawop and the education system in Seychelles which was brought to the fore by a member of the association, Fiona Ernesta.
Mrs Ernesta brought to the table a number of ideas in which education and Sawop could partner which included the replicating of their mother association's gender responsive interventions programme and the consideration of transforming a nominated school into a centre of excellence.
Another point brought forward was addressing gender related challenges in education and the need to educate teachers and school managers on gender responsive issues affecting schools, to name a few.
Other projects discussed included the drafting of a national gender policy brought forward by Tessa Siu, also a member of the association.
Ms Siu said that the policy, if agreed on, would be the first national gender policy in Seychelles and the first SADC national gender policy aligned to the SADC gender and development protocol.
She went on to explain that despite "a high level of social development and the elimination of blatant discrimination against women, challenges still exist" and need to be addressed.
Sawop members also discussed different ways to improve leadership skills amongst themselves by adopting the toastmasters club – a non-profit educational organisation that teaches public speaking and leadership skills.
Mrs Crewe explained that the club is typically made up of 20 to 30 people who meet twice a month and where members get the opportunity to conduct meetings, give impromptu speeches, present prepared speeches and offer constructive evaluation.
Mrs Crewe said she is happy with the level of participation and input by Sawop members.