Seychelles signs diplomatic visa waiver accord with UAE
29-February-2012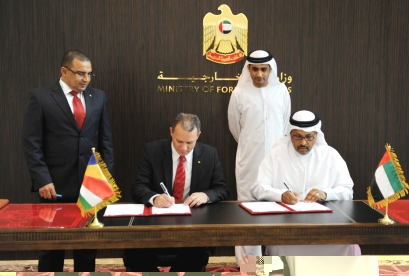 This took place at a ceremony held in Abu Dhabi on February 26.
The Minister for Foreign Affairs, Jean-Paul Adam, who was accompanied by the Seychelles resident ambassador to the UAE, Dick Esparon, signed the waiver along with the UAE Ministry of Foreign Affairs under secretary, Juma Mubarak Al Junaibi.
"This waiver agreement is the first step in allowing Seychellois to travel more freely to the UAE," said Mr Adam.
"It has always been a priority of the government, and a mission of the Ministry of Foreign Affairs, to remove visa barriers for Seychellois travellers and to date, we can travel freely to 74 countries. We are confident that soon we will have the necessary agreements in place for all Seychellois passport holders."
Mr Adam also explained that diplomatic and special visa exemption agreements are concluded between foreign ministries while wider exemption agreements have to comply with local legislative procedures.
Diplomatic relations between Seychelles and the UAE were established on December 18, 1982 while Seychelles' first diplomatic mission in the Middle East was inaugurated in November 2011 by President James Michel.