Stricken Costa cruise ship towed to Port Victoria
29-February-2012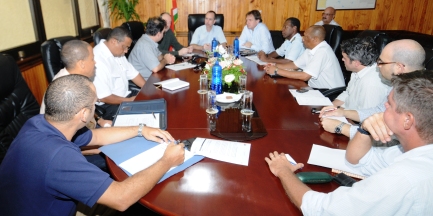 This was said by the Transport Minister Joel Morgan during a press conference yesterday evening after meeting an emergency committee to finalise the arrangements for the arrival of the Costa Allegra and its passengers here.
He added that the committee is made up of representatives from the Maritime Safety Administration, the Seychelles Coast Guard (SCG) as well as the Seychelles Ports Authority and the Island Development Company. The executive president of the Costa Cruise Norbert Stiekema was also present at the meeting.
Mr Morgan said that SCG vessel Andromanche is also providing protection to the cruise ship and the two tug boats during their journey towards Seychelles and upon arrival of the vessel medical officials will be on the port to give any assistance.
"Then the over 600 passengers and 400 crew members will be temporarily placed in hotels where they can freshen up and have a meal."
He added they will ensure that the tourists get all the comfort and assistance when they get here after this traumatic experience as since Tuesday they have been without power.
"Costa Allegra also got help from a French vessel which was in that area and the Seychelles People's Defence Forces air wing also got on the scene to ensure that the ship and passengers were safe."
Mr Morgan said the Costa Cruise is bearing the cost of all logistics and that Air Seychelles and Blue Panorama have been chartered to repatriate the passengers to their country.
Mr Stiekema thanked Seychelles for the support adding that he is grateful to the government.

He said engineers are also here and as soon as the Costa Allegra gets to the port they will try to find out the cause of the fire.
The Costa Allegra is a sister ship to the Costa Concordia, which partly sank in January after striking rocks in Italy. It was apparently sailing from Madagascar to Seychelles when the fire broke out in an electric generator room.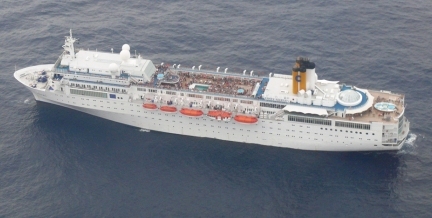 The photo shows the Costa Allegra as taken by the Indian Navy Dornier Plane on Monday afternoon following its distress call.