State-of-the-nation address 2012-President lays out plans to restructuregovernment
01-March-2012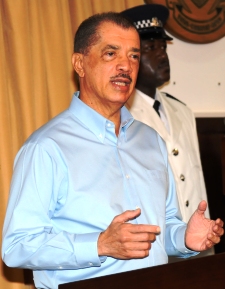 He made the announcement in his state-of-the-nation address before the National Assembly yesterday afternoon. The speech was broadcast live on SBC radio and television.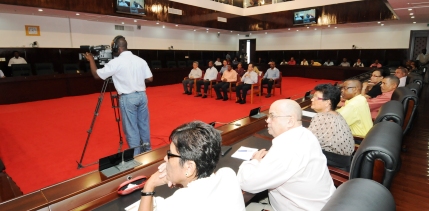 "The people of Seychelles elected me to serve them. And I shall continue working for them, as I always have. In this task, I shall need faithful, loyal and competent collaborators.

These collaborators will be principally the Ministers whom I appoint. When they accept this position, they accept the responsibilities attached to it. They must agree to set aside their personal interests and ambitions. They should not use their positions to raise their status or for personal gain. They have been placed there to work hard and for a period of time.

They are not appointed for life. They are above all, at the service of the people, and they remain in their posts for as long as their services are required. The same principle applies for civil servants," said the President as he announced the formation of new ministries:
• Finance (portfolios for finance, commerce and investment)
• Internal Affairs and Transport (portfolio includes the police department, immigration and civil status department, and the prison services department)
• Environment and Energy
• Tourism and Culture
• Social Affairs, Community Development and Sports
• Employment and Human Resources
• Education
• Health
• Foreign Affairs
• Lands and Housing
• Natural Resources and Industry
The Vice-President's portfolio include Information Technology & Communications and Public Administration while the President will keep the portfolios of Defence, Legal Affairs, Information and hydrocarbons and also take on the Youth portfolio.
"Government restructuring is not a game of musical chairs. The rotation of a minister to a new ministerial post is not only normal, but it is often a necessity. Another minister will continue the work and prove himself/herself. The decisions I have made on government restructuring have been taken after much reflection and they have been taken solely in the interest of the Seychellois people. In the new Seychelles, we will not tolerate the creation of empires," said the President.
Noting that it is not this restructuring alone that will improve this government, President Michel said:
"Without the devotion, commitment and perseverance of all workers, we will never be able to achieve our objectives."
He saluted all public service workers who are exemplary in their work, are productive, and always try their best to give a service delivery that is timely, of the best possible quality, and who take a compassionate approach to the needs of their clients.
"There is no place in this 'New Seychelles' for a public service that is not interested in giving a good service, hard work, productivity and innovation.
"Ministers and chief executives who are responsible for public organisations will ensure that the performance of their staff will be closely monitored. They will ensure that hard work is rewarded and that appropriate measures are taken against those whose performance or conduct is not acceptable," President Michel said.
President Michel also spoke about corruption in the public service which he said will not be tolerated and that those who are guilty would be severely sanctioned.
In his analysis of the economic situation, the President said that in spite of the world recession, the Seychelles economic indicators remained fundamentally strong.
"We were able to maintain a positive and encouraging economic growth of 5%. Again last year we succeeded in achieving the objectives of our economic reform programme. These included a budgetary surplus equivalent to more than 5% of our gross national product.

This allowed us to continue reducing our public debt which now stands at 76% of our GDP. We also increased our foreign exchange reserves, now reaching almost $290 million," said the President.
In his address the president also gave an overview of the country's achievements last year and shared with the nation his vision for this year.
He also touched on other subjects such as democracy and good governance; social renaissance; order, peace and security.

President Michel also urged all Seychellois to come together for the continued progress of our country.
"I am ready to work alongside you all; to work for a New Seychelles," he said.
Seychelles Nation will come back on President Michel's state-of-the-nation address in its future issues.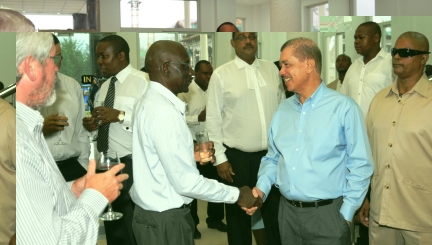 President Michel interacting with guests and MNAs after the speech